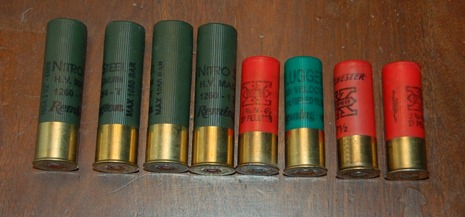 10 Gauge are long green and 12 gauge are the short
I have had the opportunity a few times to shoulder a 10 gauge. I wouldn't carry it for hunting or skeet because it is very big and heavy and my 20 gauge kills the clay just the same.
I like using it for demonstration proposes with a slug. the 10 gauge shells we have used in the past have been 3 or 4 slugs stacked on top of each other and when blowing up a 5 gallon bucket of water it makes a nice show.
At this time I do not have a picture of it to post but next chance I get I will try and get a video of it and post it here on the site.


Browning BPS 10 Gauge
Gauge: 10
Barrel Length: 28″
Overall Length: 50″
Weight: 10 lbs. 9 oz.
Chamber: Size: 3 1/2″
Receiver: Forged and machined steel
Barrel: Ventilated rib
Action: Bottom ejection • Dual steel action bars • 3 1/2″ chamber • Top-tang safety
Magazine capacity: 4+1
Stock: Composite stock and forearm with a camo finish
Features – Three Standard Invector™ choke tubes (Full, Modified, Improved Cylinder) • Brass front bead sight
The 10 gauge is fun to shoot but with the adaptation of the 3" 12 gauge shells , we no longer needed a larger gauge to hold more pellets for hunting.
This week is dedicated solely to shotguns so be sure to stay tuned in all week because I can tell you this week will surely end with a BANG!