I talked a little about the Snake Charmer II .410 bore Shotgun on Monday. it is good for backpacking or off-roading trips, something where you want small and light weight weapon.
I came across this survival rifle about a year ago while reading up on a friends trip in the backwoods and how the crew wanted to carry a small .22lr, but didn't want the weight. He was at the gunsmith picking up something he had in the shop and started talking about how they were looking for a light weight weapon when the gunsmith pulls out from the back what looked to be just a stock without the rifle and and told him this was the rifle for him.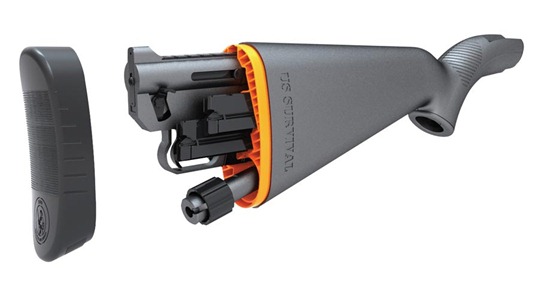 When this rifle is taken apart it all fits inside of the stock and only weighs 2.4lbs.
Specs
Caliber: .22 Long Rifle
Action: Semi auto
Weight: 2.4lbs (1.13kg)
Length: 35" (889mm)
Stored in stock length: 16.5" (419mm)
Range: 100 meters
Magazine: 8-round magazine
Designer: Eugene Stoner
Year designed: 1958
Sights: Iron (Adjustable rear, blade front)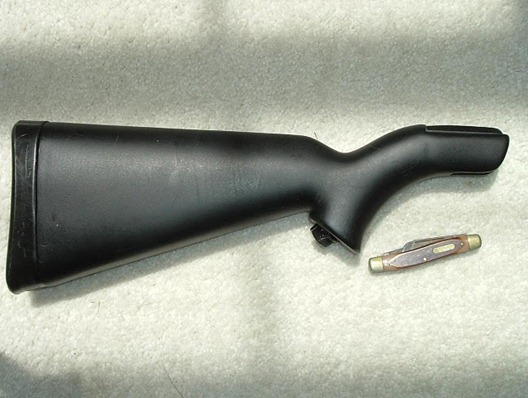 This isn't for taking down a bear in the backwoods as the .22lr with most likely just piss the bear off more, but if you were lost this would work for taking down small game.
The AR-7 was designed as a survival rifle (or kit gun) by Eugene Stoner in 1958 for ArmaLite as a weapon pilots could use if they had to bail out of the plane over the back country. This rifle has found a following with pilots because it is a small rifle that is not only light but waterproof and floats, this makes it also a nice rifle to carry for backcountry adventurers who want a rifle that is easy to carry and reliable enough to take down small game.
Henry Repeating Arms company has taken over manufacturing of the AR-7 from ArmLite and labeling the rifle as U.S. Survival AR-7.