I know I am going to catch some flack from writing about the ACR before I write about the FN-SCAR but I'm okay with that because no one requested the SCAR.
SPECS

Caliber: 5.56 – 6.8 SPC II
Barrel: 10.5" – 14.5" – 16.5"
Trigger: Standard AR/M-16 trigger, 4.5 – 6lbs, Match trigger available
Magazine: Accepts MagPul PMAG and Mil-Spec M-16
Weight: 14.5 Weapon, Base rifle – 7lbs 14oz, Loaded w/ suppressor – 9lb 13oz
Length: 14.5 Weapon, W/o Suppressor, Stock folded – 25.75", W/o Suppressor, Stock deployed – 32.625", W/o Suppressor, Stock extended – 35.5"
Bushmaster has announced plans to make the ACR in 6.8 SPC and 7.62x39mm.
The ACR stands for Adaptive Combat Rifle and is easy to interchange the caliber of the rounds this rifle shoots with THREE simple changes, the barrel, the bolt carrier, and the magazine.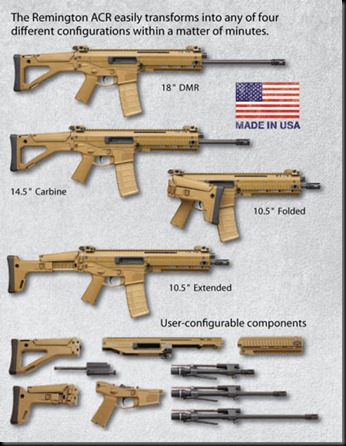 This weapon has a few variations such as barrel lengths and calibers, the color schemes, Stock made of polymer or metal, Lower receiver made of polymer or metal.
This system truly lives up to its name as an adaptive rifle for the end user.
(Update) On October 15, 2010 Bushmaster issued a recall of all ACR rifles instructing users to "Please immediately discontinue the use of your ACR rifle" along with instructions to contact customer support for an RMA. Bushmaster stated that the recall was issued due to "a possible firearms performance issue that may develop with a small number of ACR rifles" and goes on to state that "Bushmaster discovered a design flaw which could result in multiple rounds firing continuously when the trigger is pulled". Bushmaster has stated that it will cover all of the costs associated with the repairs to the recalled rifles [wiki]