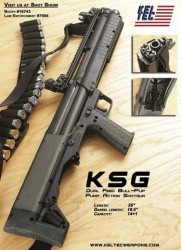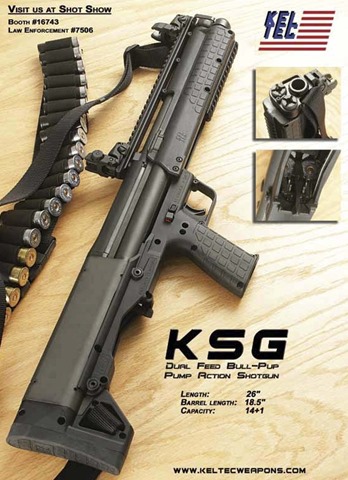 If you haven't seen or heard about the Kel-Tec KSG, it is a bullpup 12 gauge shotgun with 2 magazine tubes and one barrel.

Introduction
The Kel-Tec KSG shotgun is not your standard old faithful shotgun. It is not the shotgun that our grandfathers have been using since they were young pups. This is Kel-Tec's entry into the modern day shotgun class. From first glance, you can see this shotgun is different. The KSG doesn't have the look of that old American classic. This shotgun is part of the future of shotguns in both the LE/military market as well as the civilian market.
Specs
Caliber: 12 gauge up to 3" shell
Barrel length: 18.5″
Total capacity: 6+6+1 (using 3" shells)
Weight empty: 6.9lbs
Weight loaded: 8.5lbs
Length: 26.1″
Height: 7″
MSRP: $990.00
Materials: Hardened Steel and Glass reinforced nylon (Zytel)
First Impressions
The Kel-Tec KSG shotgun made its way on to the market a few years back. I had a number of opportunities to get some trigger time with this shotgun, prior to getting this one for review. I liked the look when I first saw this gun and I have always liked the bullpup design.
As I have mentioned in the past, I own a 20 gauge that is a bottom loader and ejector shotgun so I have had years of experience with that style. I have wanted to own the Kel-Tec KSG since day one.
Shooting and Feel
This shotgun is a 12 gauge and there is no denying that fact. Since this is a bullpup, there is not a lot of room to add things, like recoil dampeners, that you might have in a plastic butt stock of your favorite bird gun.
I am sure when Kel-Tec was building and designing this shotgun bullpup they weren't designing this for a 10 year old child who might not be ready to shoot heavier recoiled shotguns. This shotgun has the recoil of a normal 12 gauge. For me, that doesn't affect my personal take on this shotgun, because I own a number of shotguns and I have been shooting them for years. The compact size makes the gun easier to control because you are not sticking that 18.5" barrel past where it is comfortably maneuverable.
Operation and Controls
The Kel-Tec KSG is a pump action that offers the shooter dual 7 round (2.75 inch shells) magazine tubes so they can carry 14 + 1 shells in the shotgun. The magazine tubes are manually operated by a toggle switch behind the pistol grip. This gives you total control over the type of ammo the shotgun is shooting.
The most common question I have been asked is why do you need manual switch tubes? The best answer I have found, is that it was designed for someone in the LE/Military to use this shotgun to clear a building. The Kel-Tec KSG offers them 2 shotguns in one. You can load mag tube one with door breaching rounds or lethal rounds and load mag tube 2 up with something less than lethal. You can make the shotgun mission adaptable i.e. slugs in one tube and bird shot in the other to keep the spray pattern from over penetration.
For hunting, you might want that slug in one tube to take down your deer or hogs and buckshot or bird shot for varmint. For range commandos about 8 seconds of 12 gauge glory as you rain down fire and birdshot on your paper targets.
The pump release is right where you want it to be on the trigger guard. All you have to do is extend your trigger finger from a trigger control position to the lever to release your pump. The safety is a larger side to side push safety with clear written red "F" for fire and the left side a white "S" for safety.
Sights and Rails:
The KSG comes with a 12.25" picatinny rail on the top and a 5 inch picatinny rail on the pump. The shotgun does not come with iron sights or any kind of sight for that matter. The top rail offers the shooter a wide range of set ups from backup iron sights with a holographic sight as your main sight or even a shotgun tube sight. On the bottom of my KSG, I have put a Troy fore grip to assist in the pump action and keep my hands from being anywhere near the muzzle. There is enough room for a laser and fore grip on the bottom or even a fore grip/bipod combo.
Sling:
Kel-Tec ships a webbing and connectors to give the KSG a 2 point sling which is my biggest con of this gun. I have the sling attached and have had it attached since day one to insure I gave everything Kel-Tec sent a fair and honest review. I don't like the connection points at the muzzle and at the butt stock. I have found I have almost shot my sling off a few times. The KSG hasn't been designed with quick detach slings in mind and so you will not find QD points on the shotgun. I think that is something that would give this shotgun more to offer, having more freedom of sling options. I did find on the Kel-Tec website a metal single point attachment bracket for $21. If I keep this shotgun that is definitely one of the extras I would like to get.
Extras/Accessories:
As I mentioned about the single point adapter there is one more accessory I would want. That is the choke tube adapter. My other con I have for the KSG is that is it neither rifled for slugs nor choked for spread pattern. While the choke isn't really a bad thing, as a hunter a rifled barrel would better serve the gun. Part of the reason I want a choke adapter is to allow me to thread on the new Silencerco Salvo 12 gauge suppressor.
Final Thoughts:
I have loved every second of reviewing this Kel-Tec KSG. This bullpup is fun to shoot, fun to show other shooters and most of all an extremely well built 12 gauge. There are other 12 gauge shotguns in this class that might not always be able to stand up to the forces that is modern day 12 gauge range commandos shotgun does. The KSG has even more applications than what I have mentioned. That to me, makes this shotgun such a nice tool to be added to anyone's gun collection.