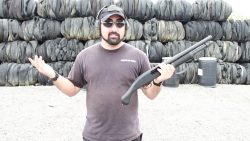 We picked up a Mossberg Shockwave a few weeks back and after working with this firearm just for the short amount of time I have found that I want this as my new Ranch gun.
The size of the gun plus the fact that my ammo options are plentiful makes this gun great for everything from snakes to mountain lions to the occasional pirate looking for your tractor rum stash.
This is a first look only and I will be publishing a full review a little later on this year after the ranch is set up and we have the range built enough to start full reviews.
******** Use code "GOG5" for 5% off your entire OpticsPlanet.com order! Follow Me Here For all our Updates! Gears of Guns Blog: http://Gearsofguns.com Gearsofguns YouTube Channel : https://YouTube.com/TheGearsofGunsblog Gears of Guns Reviews: http://gearsofguns.com/product-reviews/ Find us on Facebook: http://www.facebook.com/Gearsofguns Find us on Twitter: http://twitter.com/gearsofguns Find us on Instagram: https://www.instagram.com/gearsofguns/ We are also on Pinterest: https://www.pinterest.com/gearsofguns/