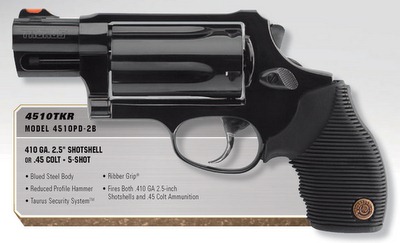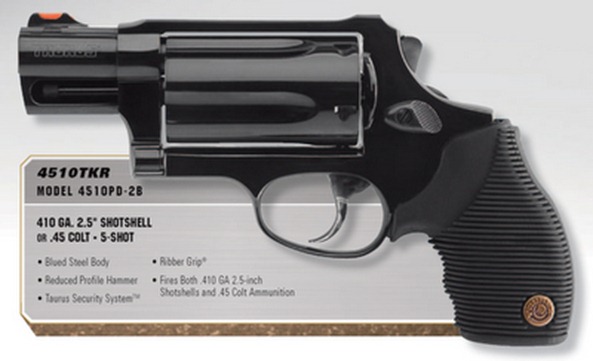 Caliber: .45 Colt /.410 (2.5″ chamber)
Grips: Ribber
Capacity: 5
Weight: 28.2 oz – 29 oz..
Barrel Length: 2.5″ and 3"
Construction: Steel
Frame: Small
Action: SA/DA
Length: 9″
Grooves: 6
Safety: Firing Pin Block,Transfer Bar
The Taurus Judge is a nice gun to have for the versatility of being able to have a shotgun and a long pistol (round) all rolled in one.  I haven't yet fired this but I have had a few chances to hold it and it is comfortable in the hand. I would like to feel first hand the recoil compared to a .357 mag or .38 SPL because from what I have read is it has about the same recoil as a medium frame .357 which isn't a bad recoil and if you were shooting for fun it wouldn't be a gun you would only take 2 shots from and say this is too much.
The combo pack (pictured above) I have yet to find a website or store who has it in stock and from Winchesters' site it looks as if it might be discontinued. If you know of some place that is still selling it please contact us and let me know where.