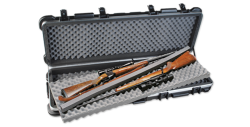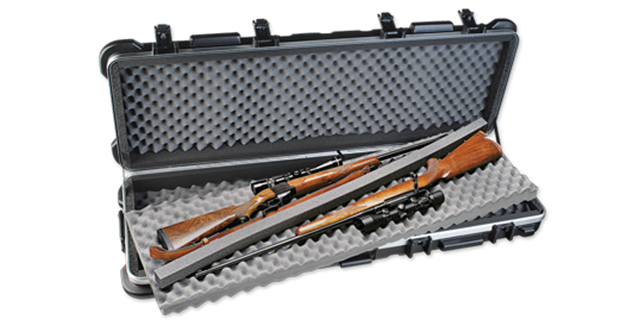 I have been provided the materials needed for this review. However, my opinions are entirely my own and I have not been paid to publish positive comments.
I am the type of shooter who likes to have all my firearms in hard cases for transport.  I believe firearms are an investment and I want to protect them as best I can. My family and I have owned a good number of single rifle cases over the years.  I would pack my truck to the brim with cases and gear to go to the range for just a few hours. When I started to review firearms, my firearm collection started to grow.  I needed some new solutions to carry them to the range and I needed it fast.
When the ZA-15 was shipped to me it came in a SKB  SFR 5013 Double Rifle Case.  After many trips to the range with this case, I was very happy with the protection it gave my rifle and scope. Our drive to the range is over pothole and uneven back roads.  With the SKB I was able to keep my scopes zeroed even when I had to slam on my brakes to avoid an accident.
After seeing how well the firearms were protected I contacted SKB, who is one of the largest manufacturers of all kinds of hard cases.  They make hard cases for everything, such as industrial equipment cases, music cases, sport cases, military and firearm cases.  I had them ship me out the ATA 50″ Quad Rifle Case to see how transporting 4 firearms at time would be.

Features
Accommodates four rifles or two rifles and a bow.

SKB's unique Perfect Match Valance Bending System for a perfect seal.

Weather resistant.

Stackable design.

Patented fiberglass and nylon trigger release latches.

Two locking latches.

Carry and tow handles for easy transport.

Built-in wheels.

Unconditional lifetime warranty.

$1500 Content Coverage.
Specifications
Interior Length: 50.00″

Interior Width: 15.50″

Interior Depth: 6.00″

Carton Length: 56.00″

Carton Width: 20.00″

Carton Depth: 9.00″

Shipping Weight: 30.00 lbs.

Capable of accommodating four rifles or two rifles and a bow with SKB's trademarked "bunk-bed" padding and divider protection system, the 2SKB-5014 features SKB's unique Perfect Match Valance Bending System for a perfect seal. Weather resistant, stackable patented fiberglass and nylon trigger release latches with two locking latches, bumper protected hardware, built-in wheels and both carry and tow handles for easy transport all come standard.

The ATA Bow / Rifle Transport Case 5014 is made to ATA 300 category 1 specifications, which is the highest shipping container specification of the ATA. This case is molded from ultra-high density molecular weight polyethylene, the material specified by the U.S. military for cases and containers.
[From SKB's website]

Weight and Price

The shipping weight of the case is 30 pounds which makes it a very heavy case when you have it loaded with firearms. The case has wheels and a handle to wheel the case around on hard surfaces making it easier to move around.
The case MSRP is $329.99 making this on the more expensive end of cases but when you compare to a SKB double rifle case like the one I mentioned before which starts at $190 you are saving a few bucks.

Recommendation

I have been carrying this case out to the the range for about 5 months now.   I have dragged it through the dirt and over the rocks at the range without any kind of problems with the case. It really keeps the firearms separated in the case.  It is a sturdy hard case that takes the beating while cushioning and protecting your firearms.

It is really nice to be able to put 4 weapons into one case instead of four separate cases.  If you believe your firearms are an investment you need to protect, then I recommend the SKB for its durability,  safety of the firearms during transport and the convenience of transporting multiple firearms together.