Disclosure: This post is sponsored by RE Factor Tactical.  As always, all opinions shared are honest and my own.
Back in 2018 RE Factor Tactical reached out to us asking if we would be interested in reviewing a few paper shooting targets from them. I of course, checked out the targets to see if this might be something we would be wanting to review. When I saw all the options, I knew I needed to do this review.
So what came in the mail? Of course like any smart company, they sent us shirts.  They must have known that a free shirt is one of my favorite freebies to get.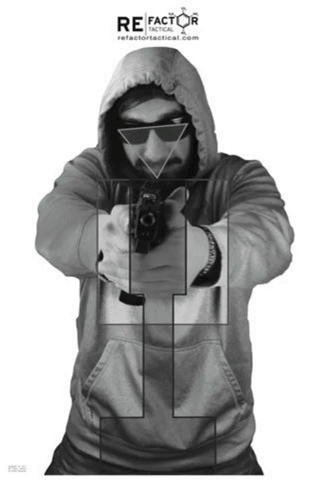 RE Factor Tactical sent out roll after roll of their different targets and The Essential Shooting Guide.  They also included their Dead Man's Hand Shooting Deck that pairs with the  IQ targets.

As many of our loyal followers know, GEARSOFGUNS is a review channel that works hard to show you what is most important when you are looking at guns and gear… THE GUNS AND GEAR! We don't show training or hunting or competition because that isn't everyone's cup of tea. But, if you are looking up guns and gear reviews, you are definitely in the right place. While we don't show training to you, we do highly recommend training and practice because anything to make our community better and safer is a win in my book. RE Factor Tactical has the IPSC targets, the "sharpshooter" Targets, the "fun" targets and even the conceal carry training targets.
Targets are a must in the firearm world and Re Factor Tactical is bringing you all the options to help YOU, the shooter, get the most out of your ammo and range day. When you are at the range, time is money and ammo is money and these targets help you get the most bang for your buck.
When the weather warms up a little and we get the full crew out for a range day, we are planning on using these targets for some fun competitions between us. Stay Tuned for that video!