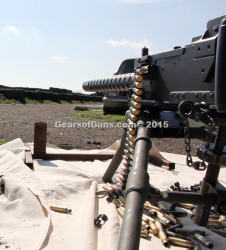 I have been provided the materials needed for this review. However, my opinions are entirely my own and I have not been paid to publish positive comments.

Before I talk about this 1919A4 belt fed firearm I have to talk about Ohio Ordnance Works. I have never met them in person but I can tell you I have the upmost respect for the men and women of this company. Normally when working with a firearm manufacturer I work with one person and if I have any problems they are the only one I can contact to get a problem resolved. This company however is not like that. When I had a problem with the 1919 on a Tuesday morning I did not speak to my contact Bob Conroy I spoke with the owner directly. I will talk more about that a little later on and help further explain why I have to open with these comments.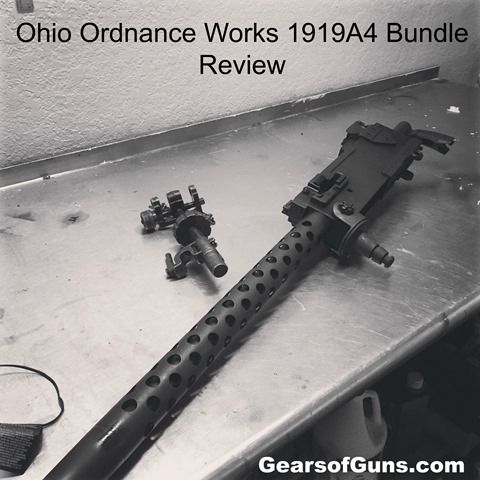 M1919A4 Specs+
Designed: 1919
Number built: 5 million
Variants: A1; A2; A3; A4; A5; A6; M37 and AN/M2
Weight: 31 lb (14 kg) (M1919A4)
Length: 37.94 in (964 mm) (M1919A4)
Barrel length: 24 in (610 mm)
Cartridge: .30-06 Springfield and 7.62×51mm NATO
Action: Recoil-operated/short-recoil operation
Rate of fire: 400–600 round/min
Feed system: 250-round belt
The OOW M1919A4 is classified as a belt fed rifle.  The machine gun classification is for full auto only, making this gun a semi auto and available without a NFA tax stamp.
The Backstory
As many of you may have already seen and heard, Ohio Ordnance Works has redesigned the BAR and made it their H.C.A.R. (Heavy Counter Assault Rifle). This is a very cool looking rifle but it honestly was not the first thing that peaked my interest when I first came to their website. While scrolling through their guns I saw the semi auto 1919A4 Bundle which is a SEMI AUTO belt fed tripod rifle. Side note: this means you cannot put the sig stabilizing brace on this and turn it into a pistol (I found this out at my FFL holders shop when I told him all the cool kids were making pistols and I wanted one too). When I saw that, the first thing that went through my head was this is AWESOME! who doesn't want to own a belt fed gun? and that is when I saw the price. $3,997. I honestly figured they would have this priced to be closer to $7000+.   On top of all of that, the gun at the bottom of the page is a 1919A4 with a Cleaning Kit, Manual, Headspace & Timing Gage, and the .308 Trunnion Shield for $2500.
YOU ARE TELLING ME I CAN OWN A BELT FED RIFLE FOR THE SAME PRICE AS 2.5 AR-15s? Sign me up!
Let me put two images in your head.
1. You pull up to the range, get out of your truck, walk to the firing line and pull out the same plain Jane AR-15 that every other shmuck has and shoot it
or
2. You pull up to your private range, back up into your bay, unload a 1919 A4 out of your truck and not give a s**t about what anyone else thinks because you own a belt fed tripod rifle of glory?
That is what I thought.
OOW 1919A4 Bundle Specs
Bundle Includes:
· 1919A4 Semi-Auto
· Manual
· Tripod, Pintle, T&E
· Headspace & Timing Gage
· Custom Cut Pelican Case
· 1919A4 Linker
· Cleaning Kit
· 1,000 Links
· Spade Grip
· .308 Trunion Shield
· Parts to Convert Gun to .30-06
· Membership Access to Video Tutorial
The Bundle
When my gunsmith got the M1919A4 in he told me he saw the parcel service driver spending more time than normal in the back of the truck so he walked outside to see what the deal was and the driver told him he needed to get his dolly to carry this box into the shop. My gun smith told him that he didn't need to worry he would just help him carry it in. In his words, "that was a mistake".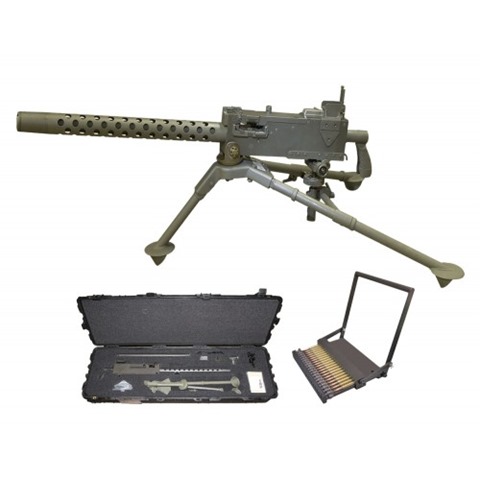 The pelican case isn't grossly over heavy but it's a long case that is meant to be carried using the handles or rolled using the built in wheels, making it easy to move. In the cardboard box it was heavy and awkward.
Inside of the custom cut Pelican case the rifle also comes with:
Manual
Tripod, Pintle, T&E
Headspace & Timing Gage
Cleaning Kit
Spade Grip
.308 Trunion Shield
and Parts to Convert the Gun to .30-06
You also get:
1000 Links (they link .308 Winchester, .30-06 Springfield and 8mm cartridges)
Membership Access to Video Tutorials (this is very important)
and the 1919A4 Linker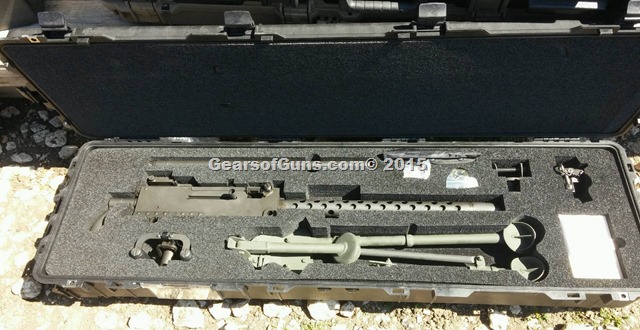 The Ammo
Our good friends over at Luckygunner.com sponsored the .308 used in this review.
We used 1000 rounds of 308 Winchester 180 Gr Sp Prvi Partizan
Be sure to check them out for all your ammo needs.
Linking
When the rifle first came in Ohio Ordnance Works was out of stock of the linker so they shipped it without one. The crew and I had plans to get this gun on the range as quick as possible because it was going to rust from all the drooling if we didn't.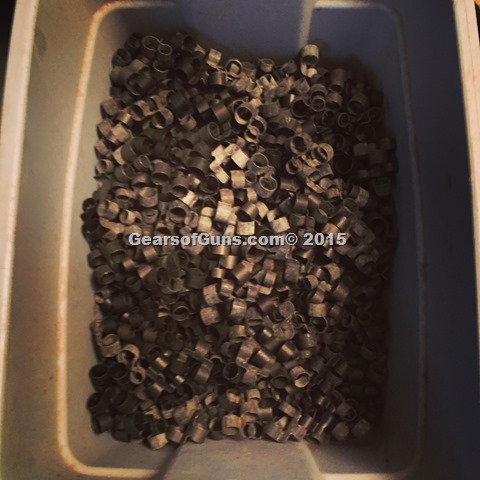 [1000 links in a plastic box I purchased)
I called over one of the guys to come help me hand load 500 rounds and I can tell you from experience this is a bloody ordeal and I am thankful I never have to do that with this gun ever again. It took two people about an hour of linking to get all the belts made (we made them into 40 round belts.)  When we got the linker in a few days later, it took me 23 minutes by myself to do the same amount.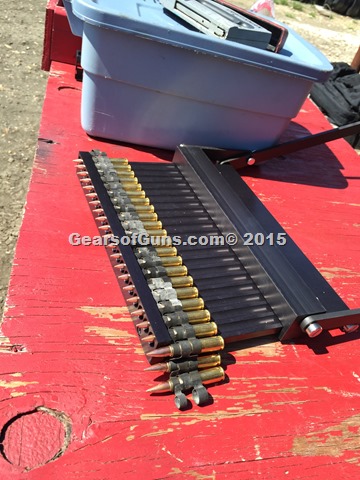 Shooting
As I said, we shot 1000+ rounds of .308 through the M1919A4. It was the most fun you can have without full auto.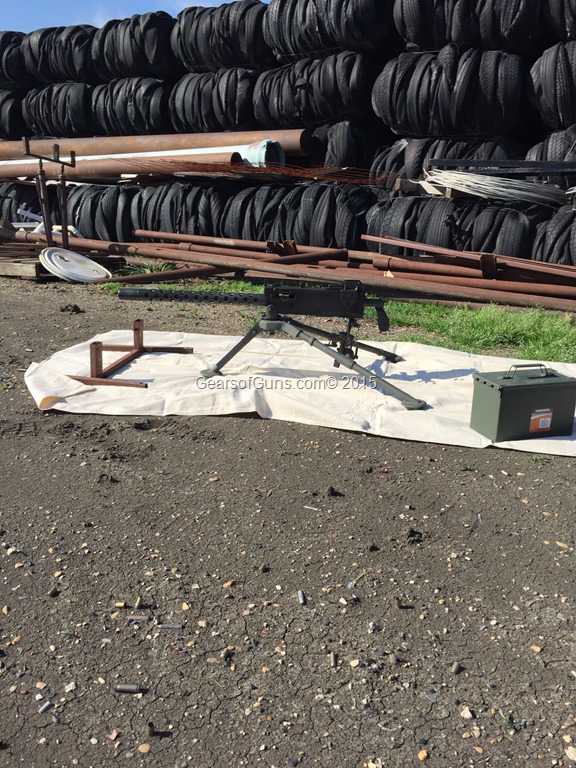 I tried both the spade grip as well as the standard grip and both of them are fun to shoot. I think I like the standard grip more because it means I don't have to take the M1919A4 down to put it back in its case… maybe I am just lazy.
Changing Barrels and Cleaning
This gun comes with a membership to videos on how to change the barrel and take apart the gun and they do a much better job at explaining this than I can. I will say I have watched the videos every time I have cleaned this gun and when I had to fix the gun to insure I don't miss anything. The videos are helpful and comprehensive.
The Problem and the Solution
On the first range trip, we shot about 250 rounds before I broke the gun. Yes I admit I broke it and I am kind of happy it happened. I have no idea why the detent pin bent but the pin that rides in the channel from the extraction arm bent out of place and stopped the gun from working. Ohio Ordnance Works said, "it was probably a fluke, a wriggling out of place by the pin. We've made tons of these and not had an issue like that. They are new/grad A surplus, so you may have found one that just wasn't perfect."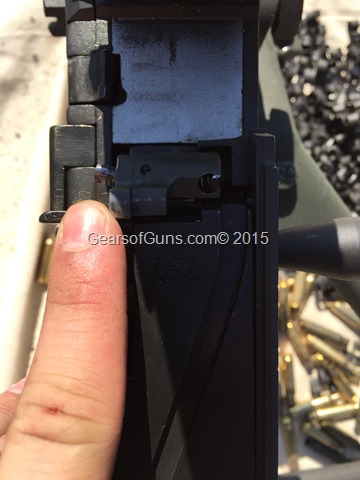 I am happy about breaking the gun because of the experience I had afterwards. I hate breaking guns. I know as a reviewer I can be hard on gun but normally we know their limits and where the maximum amount of safe operating abuse is and we err on the side of caution. This however was not abuse. We were still warming the M1919A4 up when it bent.
This killed the mood at the range. Since this is a review gun and it was a weekday morning I called Ohio Ordnance Works to try and figure out what had happened. I spoke with the young lady who answered the phone and she told me, Bob Conroy wasn't in the office.  She transferred me to Mr. Landies instead. Under stress, my vocabulary resorts to almost grunting so when Mr. Landies got on the phone and started helping me he was very understanding at my lost of proper terminology and told me that a picture is worth 1000 words or in my case 3 words and a grunt. So I e-mailed a photo of the bent part and he e-mailed me back just a few minutes later asking for a shipping address.
The following day I had my whole family over for lunch. When I got a knock at my door from the shipper with the part, you might say I was very surprised. I had figured I wouldn't get this gun fixed for a few days at a minimum, but they overnighted the part to me. This blew me away, no one does that. No one ships you the part overnight unless it is a dire emergency. To say the least, I was impressed.
About a month ago, while on Instagram, I saw that Ohio Ordnance Works had posted a picture of a gentleman holding a beautiful rifle with the caption of Happy birthday boss… Mr. Landies. As it turns out I wasn't transferred to some shop floor guy who builds the rifles but to the owner of the company. Again… no one does that.
After fixing the gun we took it back on the range a few weeks later and the gun ran like a champ.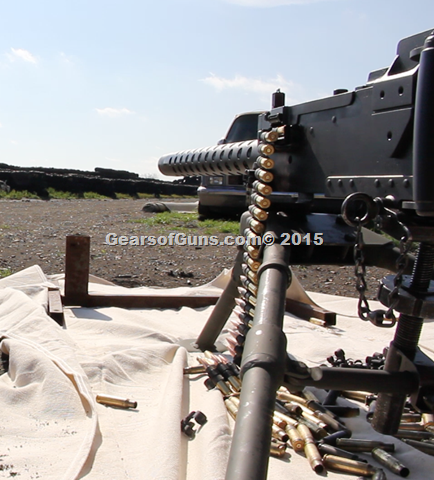 Final Thoughts
The gun is battle tested. I never had any doubts that this was a good gun, if it wasn't, it would not still be in service all over the world.
While owning this 1919A4 only makes me feel cooler in my head, I know that I will not be taking this out to the range every Sunday. I know that it is a special occasion gun than is very expensive to just play with.
This is a gun that has a lot of history attached to it and since Ohio Ordnance Works has made this M1919A4 to be as affordable to own as possible I think it is a very nice piece to have in anyone's collection. Plus, when your friends are bragging that they own a Tavor or a SCAR 17 you can just look at them and say "that's cute, I own a belt fed tripod rifle".
I have been very impressed with this company from the first time I spoke with them on the phone. They have always been very helpful and ready to work with us. I know I say this a lot, but I truly love the gun community. There is, bar none, not a single community with more caring and awesome people.