DRD Tactical is excited to offer P556 upper with a quick change barrel without any tools. P556 upper will allow any standard AR type rifle to have quick change barrel and a compact carry capability.
P556-FN model comes with 16″ FN Hammer Forged chrome lined barrel and flash hider.
P556-LW model comes with 16″ Lothar-Walther stainless steel barrel and flash hider.
We offer a US made Hardcase with custom high density foam wich can carry 16″ barrel AR carbine, 4-30rd magazines, sound suppresor (NFA item) and a variety of optics. All uppers come with our patent pending quick change barrel system and 13″ rail with tapped holes for Magpul L-4 Rail Panels.
[From the DRD Tactical website]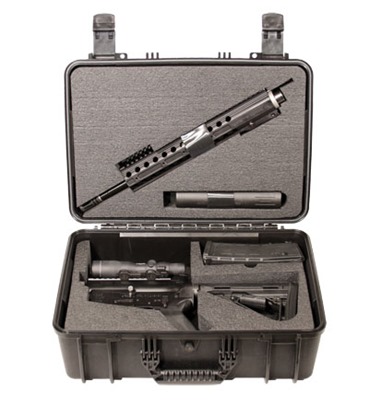 Looks nice. Hopefully if we ever get our DRD Paratus-16 for review we will know whether this seems like something else we'd like to test.