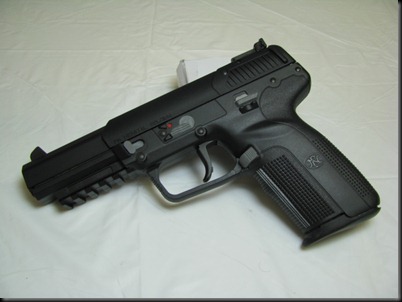 Specs
– Caliber: 5.7x28mm
– Action: Semi Auto only
– Twist Rate: 1 in 9"
– Barrel Length: 4.75"
– Height: 5.7"
– Width: 1.4"
– Barrel Length: 4.80"
– Overall Length: 8.2"
– Weight: 20.8 oz. empty
– Magazine: 20- or 10-round magazines
– Integrated accessory rail for mounting tactical lights or lasers
– Reversible magazine release button
– Ambidextrous manual safety levers
– Hammer-forged, chrome lined barrel
– Choice of adjustable three dot target sights or fixed C-More Systems™ day or night combat sights
The Five-seveN was introduced in 1998 and FN restricted purchase to military and law enforcement only due in part to the rounds ability to penetrate body armor when using certain rounds. In 2004 FN released the pistol to the public (with non body armor round) and has been increasingly popular ever since.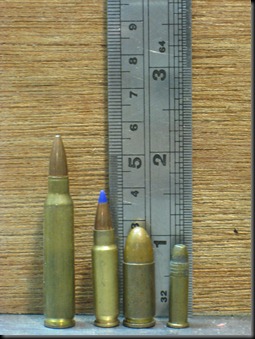 L-R .223, 5.7x28mm, 9mm, .22LR
The Five-seveN was designed around the same time as the FN P90 which also uses the 5.7.
The standard NATO pistol round is the 9mm.
NATO began testing the 5.7 and the 4.6x30mm from 2002 – 2003 to replace the 9x19mm round, NATO recommended the 5.7 over the 4.6 however standardization of the round was stopped for reasons unknown to me at this time.
The 5.7x28mm round is half the size , produced a 2/3 less recoil compared to the 9mm and certain rounds have the ability to penetrate Type IIA body armor which the 9mm can't.