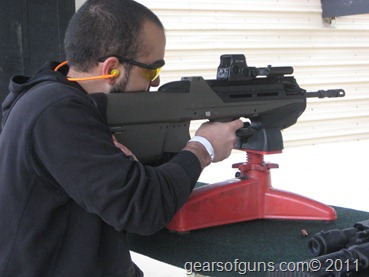 The GEARS crew went out to the range to sight in our new rifles and get a feel for them so we could better review them.
We shot about 200 rounds running M855 5.56×45mm 62-grain ball cartridge, green tip steel penetrator rounds.
After an extended range time with this rifle we have had a better chance to review it.
We can now expand on our original Pros and cons:
PRO:
Uses AR-15 magazines.
AR-15 Metal magazines are cheap and easy to find, if you own an AR-15 style rifle you can buy one type of magazine for both rifles.
Accurate.
While on the range we took the rifle and shot it from the bench rest, seated w/o the bench rest and standing and rifle remained relatively stable and on target after each shot
Full size gun in a small package (Bullpup)
The Bullpup design allows for different height and build shooters to fire the rifle without the need of changing a stock length or forend grips.
Balance
The weight of the rifle is mostly centered in the middle of the rifle making the recoil low and reducing some of the muzzle climb when fired in semi-auto.
CONS:
Chamber access is limited.
With the ejection port at the front of the rifle the chamber has very little access when fully assembled making clearing jams or brass stuck in the barrel hard to do.
The only malfunction we had was a double feed which was easy to remedy by removing the magazine and locking the charging handle to the rear.
Magazine doesn't drop free.
This wasn't so much a problem for us at the range. A shooter who has been trained on the AR style mag release will need to relearn the motions for releasing the magazine. This requires the shooter to press the (Ambidextrous bottom mounted) magazine release while they pull the magazine out.
No Polymer magazines.
The rifle only uses metal magazines.
For specs and other info Click here or for a video out how to field strip the weapon Click here