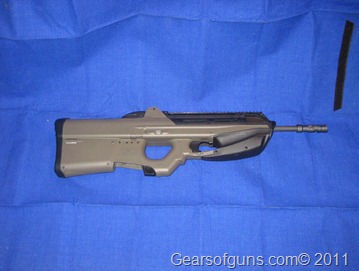 The conclusion to the gears review on the FN-H FS2000 bullpup.
Polymer frame/ comfort:
The polymer frame and ergonomics of the grip and fore grip makes the rifle lightweight and comfortable to shoot for extended amounts of time.
After a day of shooting the gun never heated up to uncomfortable point.
Sling and carrying
While shooting the rifle in a more tactical range we found that carrying and shooting the rifle without the sling is not as comfortable.
Left handed shooting
The GEARS crew has a left handed shooter who went out with us.
Compared to the Sig we were also shooting I found the FS 2000 to be much more comfortable.  Being left handed a problem that commonly occurs is getting hot brass in the face, with this rifle, no problem. (Written by DJ. GEARS left handed shooter)
Reloading
As we said in part 1 on Monday of the review (link at the bottom of this page)
The is not your standard AR style mag release and requires the shooter to press the (Ambidextrous bottom mounted) magazine release while they pull the magazine out.
It took a a few reloads before it becomes easier and after a day of shooting blind magazine change becomes more easy without having to take your eye of the target.
Felt recoil
The recoil on this gun is lower (.223 has low recoil) when compared to our AR-15 and about the same when compared to our SIG556s
Semi-auto
Shooting off the bench rest or standing with firing in a fast semi-auto burst we could still stay on target and keep about and 2" to 4" grouping with no problem.
Safety
The Ambidextrous safety in the trigger guard is a nice feature. but other than that no real comment on the safety.
Comments on the rifle:
Clearing the weapon: It always seemed we had to rack the charging handle back twice just to be sure the round came out of the rifle.
The forward ejection: Standing alone at the table or with no one to our right the ejection was nice but when a person was standing to our right they sometimes were hit with spent brass.
Cleaning: After breaking down the rifle we  didn't have to take the bolt carrier apart to clean like our AR-15 which made cleaning quick and simple.
Accuracy: center grouping was taken off the bench rest and the other holes were from sighting in and when doing semi-auto burst fire.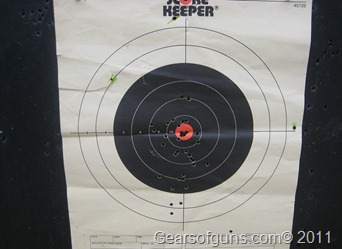 For part 1 of the review Click here or specs and other info Click here or for a video about how to field strip the weapon Click here.