Last week I was contacted by Casper (Mike) over at GhostTargets.com wanting to meet up with us to review his reactive targets.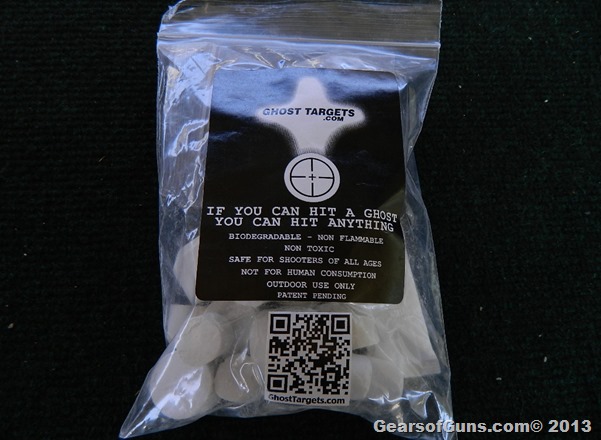 The targets are about the size of a cap of chap stick all the way up to the size of a large marshmallow. The targets come in 3 sizes 5/8″, 7/8″, & 1 1/8″.
Ghost targets are a proprietary chalk looking target that poofs when you hit them. As we learned from talking and shooting with the owner of GhostTargets.com the targets work best if they are not sitting right on a backing that you might attach paper targets to so you want to hang them so they are dangling 6 inches or more away.
Ghost Targets are for firearms that are zeroed in only. Since you don't want them against a paper targets you have to know that you are zeroed in.
I've been asked how I came up with the idea for these targets and the name. It started when I was watching the TV show Top Shot on the History Channel it seemed everything they shot exploded or re-acted in an extreme way, then was shown in slow motion, very cool! It was so cool that I was inspired to create targets that would re-act in the same way and be safe for kids to use. About 50 formulations later and I had my targets.

The name was thought of after talking to my friend that runs a shooting range and he said he just ordered the hottest new target "Zombie" targets. I asked what they did and he laughed and said they don't do anything they're just paper with pics of zombies. Zombies made me think of dead things and dead things lead me to ghosts and I had my name, Ghost Targets!

[From GhostTargets.com]
Panzer and I will be working on sighting in his new .30-06 and plan to have these targets up once we are zeroed in for a little friendly competition.
They might not seem all that much fun if you have never tried them but after hitting the three in a row I was ready to reset and keep blasting them. It reminds me of shooting and dusting clay pigeons when shooting shotguns.
This is a fun way to change-up your shooting trips and if you are looking for a way to test your sharpshooting skills this is a good way to do that.
The targets are hung up using small rubber bands and paper clips which helps keep the cost low for the targets as well as make it easy to replace if you hit the rubber band or paper clip and miss the target as I found out.