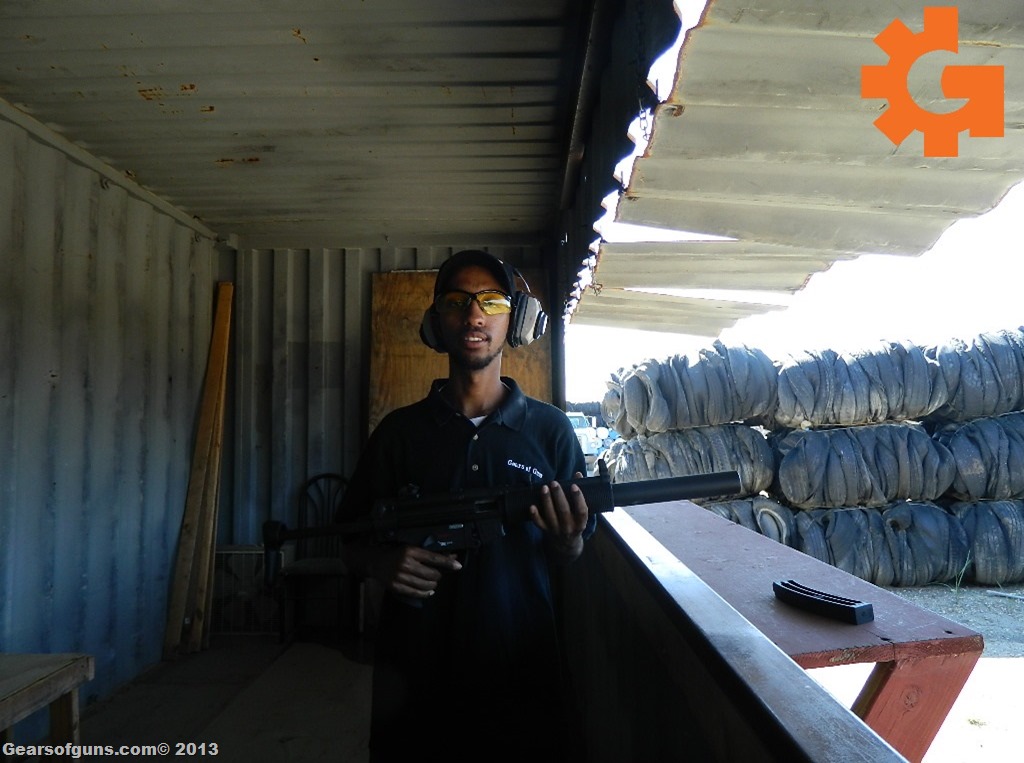 Specs:
Caliber: .22 L.R.
Capacity: 10 or 25 rds
Mode of Fire: Semi-Auto
Barrel Length: 16.2 in (412 mm)
Barrel Twist: 1 in 13-3/4 in
Rifling Grooves: 6
Rifling Length: 13.78 in (350 mm)
Front Sight: Interchangeable Posts
Rear Sight: Adjustable – Windage & Elevation
Overall Length: 26.5–32.5 in (675-825 mm)
Overall Height w/Mag:10.6 in (270 mm)
Overall Width: 2.2 in (55 mm)
Stock Style: Single Point Adjustable Telestock
Trigger Type: Single-stage
Trigger Pull: 6.6-8.8lbs
Safety Type: Manual
Principal of Operation: Blowback
Muzzle Thread: M8x.75
Length of Pull: 6.5 – 12.375 in
Sight Radius: 13.2 in (335 mm)
Diameter Rear Sight Aperture: .24 /.13 / 0.11 / 0.1 in
Front Sight Width: .07 in (1.8 mm)
Weight w/out Mag: 7.45 lbs (3400 g)
Weight of empty Mag-25: 2.5 oz (70 g)
Features:
Metal Receiver and Compensator
This H&K MP5 SD .22lr. is a licensed product of H&K, it is manufactured by Carl Walther, and imported into the United States by Walther arms USA.
Walther Arms was kind enough to send us out this rifle for review. I requested it because I am a fan of the real H&K MP5 SD and this is a replica chambered in .22lr which means it is cheaper to shoot. I was curious how the gun performed and handled. Now that I have had the chance to check out this gun and test it, here are my findings.
Shooting:
The GEARS Crew and I have shot around 2000+ rounds and I have to say it was a lot more fun than I could imagine and expected. While at the range we tested it out at the 50 yard range where the sights out of the box were true to 50 yards. We moved to the golf carts where we shot at targets in and around cars. Since we don't have footage of us shooting here is a clip of Colion Noir shooting at the range we shoot at.
After that we moved to the metal reactive bay where I found that bringing only 1500 rounds of .22lr for 3 reviewers was clearly not enough.
The whole time we were reviewing this rifle we never had one hick-up, misfeed, or misfire. This rifle just worked like it should.
Ammo:
The ammo we shot through it was Eley Target .22 LR which was sponsored by Ammoforsale.com and Remington Golden Bullet .22 LR.
Appearance:
Since this rifle is a licensed replica of the real H&K MP5SD the gun looks and feels real.
The controls are all in the same spot which means that if you own a real MP5 SD 9mm
you can train day in and day out with this rifle and build the muscle memory for the real one without the cost of the 9mm ammo.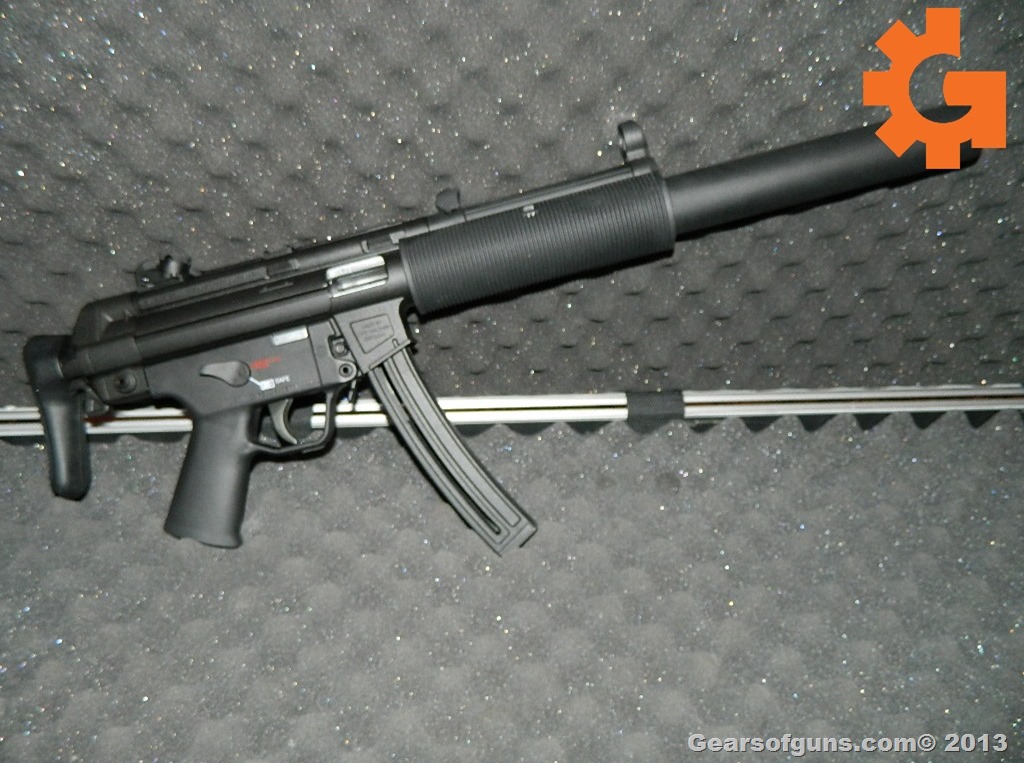 The MP5 SD .22lr has similar weight to the real MP5SD so it didn't feel like a toy or an airsoft gun.
The fake suppressor adds forward weight to balance out the rifle.
We had only one 25 round magazine which always seemed to be running on empty, if I was going to buy this rifle I would want to get a few more magazines.
Cleaning:
Atticus will be posting more on the cleaning of this rifle as I haven't had the chance to get dirty with this gun and clean it.
Overall thoughts:
The gun was a blast to shoot! I loved every minute this gun was in my hands even when we weren't shooting and I just had the rifle on a sling because the rifle just looks cool.
The thing about buying this replica version of the MP5SD is it chambered in the .22 long rifle,
So buying ammunition is going to be much cheaper than 9mm, so you are going to have more BANG! for your buck.
I want to thank Walther Arms for sending us this rifle and I hope to be reviewing more products from them in the future.