Tonight I had the opportunity to sit down and interview a 15 year old young lady who just started in a trap shooting league.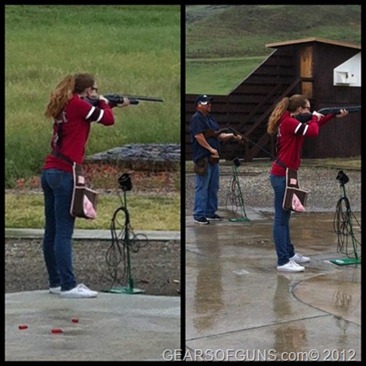 A friend of mine has a daughter who started shooting trap (click here for more about trap) about 3 months ago and I thought it would be interesting to hear from not only a younger shooter's stand point but also a girl.
What kind of shotgun do you shoot?
Remington 1100 12 Gauge semi-auto


What kind of shooting do you do?
Olympic trap because I haven't had the chance to see or try skeet.
Why do you shoot and how did you get involved in the sport?
Shooting is a fun way for me to relieve stress. My father took me out after he had been shooting for 6-7 years and one night when his league ended let me shoot. At first I was a little scared but once I got over the first shot I loved it. I had always been interested in trying it.
Do you have any female friends who shoot?
At this time no, but I am talking to a few friends about trying it. They have been to the range and watched me before but they haven't yet shot.
What do your friends your age think about you shooting?
Some of the girls think that it is weird and very masculine but my close friends think it cool and a little bit scary.
The guy's just think it is really AWESOME and wish they could do it too.
You father is your coach… what do you think about shooting with him?
I LOVE IT! It is our bonding time. During league just he and I go out for dinner and it is a chance for us to relate and talk.
How do you feel about him coaching you?
He is a very good coach and explains everything really well to me. He thinks through everything I am doing to try and help me improve.
Have you thought about competing?
Right now shooting is really only a hobby but as I get better I would like to try and shoot in some local competitions. I think I might want to try shooting in a national league when I get better.
I am hoping to be better by next league so I can try competing.
What do you think about other shooting? (Rifles, pistols skeet)
I have only shot a .22 before and I didn't like that there was not recoil. I know it sounds strange but I like feeling it in my shoulder.
I am open to try anything.
Do you ever catch yourself day dreaming about shooting?
Sometimes when I am bored in class I like to think about what I need to do better and try and see it in my head.
How do you feel about your skill level after 3 months?
I know I still have a lot of room to improve. I am always working on different things with my dad to help me get better.
How do you feel (yourself) bird hunting?
My father has always come home talking about it so I would love to try it!
Anything scary happen to you while shooting?
Not really. I don't like when the winds start to kick up and start moving my barrel because it makes it hard for me to control in the direction I want.
Have you shot any other shotguns before?
I once tried a berretta 12 gauge semi auto and loved it but it was too light for me. I had the chance to try an over-under 20 gauge but I didn't like the reduced recoil because it didn't feel right.
What would you say to someone your age who is think about shooting?
You should just do it! Try it once and if you hate it don't do it again but maybe you will love it like me!
Do you clean your shotguns after?
I help my father when he cleans them.
What other activities do you like to do?
I love to dance. I am right now doing Lyrical and Hip-hop dance classes. I love to shop with my friends and when I get a chance I love to help my dad build my Chevy truck.
Where is the first place you have to check out when you go to a sporting goods store?
GUNS FIRST! After that I like to look at the clothes then the fishing gear.