Specs
Caliber: 6X35mm KAC
Rate of fire: Semi / Full Auto – 700 rpm
Magazine Type/ Capacity:Full Curved, 30 Rounds
WEIGHT (w/o MAGAZINE)
4 lbs. 5 oz. (8″) / 5lbs 2oz (10″
1.8 Kgs (20cm) / 2.3 Kgs (25cm)
LENGTH w/ STOCK RET.
17.5″ (8″) / 19.5″ (10″)
44cm (20cm) / 50cm (25cm)
LENGTH w/ STOCK EXT.
26″ (8″) / 28″ (10″)
66cm (20cm) / 71cm (25cm)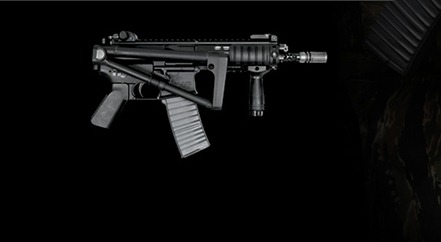 I checked with Knight's to see if they were planning on releasing the semi-auto civilian model and at this time they are not.
The weapon has ambidextrous controls, It operates on a proprietary dual gas piston system and uses a full curved magazine. (at this time I have been unable to find out if it uses proprietary 6x35mm magazines or if it will use the standard AR platform .223/5.56NATO magazine.)
The KAC PDW (Personal Defense Weapon) uses and was designed around the proprietary 6x35mm cartridge made by Knights Armament. It was designed as a weapon for aircraft crews, tank crews and truck drivers who did not need to carry a carbine but a small standby small arms weapon should they come under attack while not in transit. This weapons has high lethality of up to 300 meters.
The PDW with the 6x35mm has as much Kinetic energy as a 10 inch M4 carbine but has 50% less recoil than a standard M4 carbine. The KAC muzzle device is designed for weapon control, it eliminates muzzle climb and recoil, but not muzzle flash.