The Lancer L5 AWM is a hybrid AR-15 magazine meaning it has steel feed lips and an impact resistant polymer body. The top of the magazine catch is steel which helps to keep the magazine catch from wearing out or getting nicked up to the point that the body of the magazine becoming worthless.
The follower is a non-tilt follower. This means when you are loading or shooting the follower cannot tilt inside of the magazine causing failures to feed and jams. The spring inside the magazine we dropped, dragged and then drove over is bent out of shape. (this might be how I would feel if someone did that to me)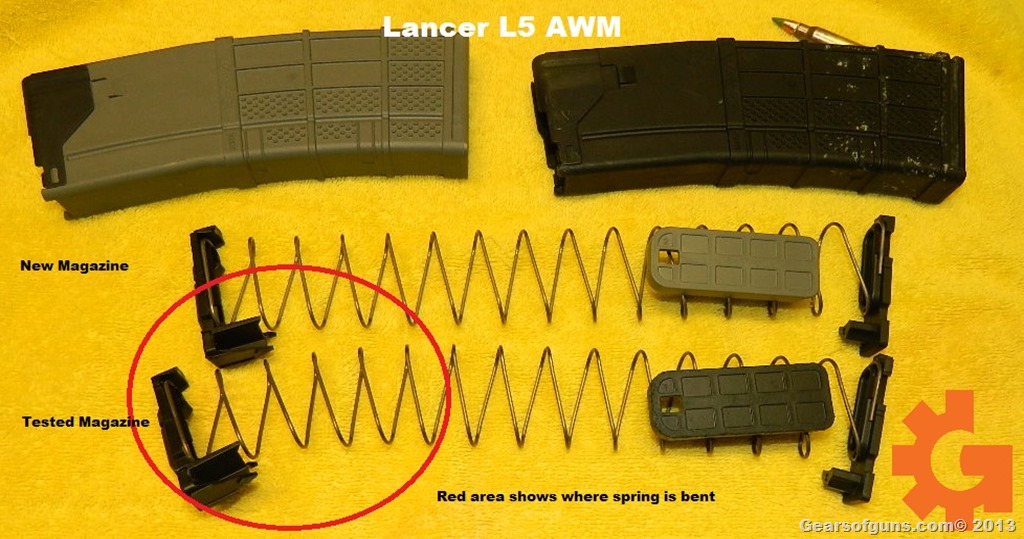 The magazines were designed to fit the AR platform, HK416, SCAR16, ARX160 and a few others. We tested the mag using a SIG556, Keltec SU-16CA and the ZA-15. The magazine functioned flawlessly in all three guns.
The Lancer L5 AWM magazines can be stored loaded without damage to the spring. This is a good feature if you plan to store your magazines at the ready.
We dropped, dragged and then drove over the magazines with very little damage. The body of the magazine was dented and scratched and the spring was bent after driving over it but the magazine is still fully functioning as expected from a quality made magazine.
The magazine still drops free from the mag well which is a good sign that the magazine feed lips did not expand or get bent during the testing. I ran my calipers on the feed lips on the tested magazine and on a new magazine and saw there was no change in size. When the magazine is loaded with 30 rounds and the AR-15s bolt is closed the magazine still locks in as it should.
Lancer produces transparent and solid colored magazines for those who like to be fashionable when you are at the range. The transparent magazines have 20 and 30 round line markers on the side of the magazine. They weigh in at 4.4oz unloaded. The stippling on the sides allows for non slip grip when changing mags. I like this stippling over the ridged bodies of ProMag and MagPul.
Since the only metal the ammo comes in contact with is the feed lips the magazine cannot seize due to metal on metal friction.
The price of the magazines tend to be more expensive than other polymer magazines but I personally believe that the magazine value meets the price.