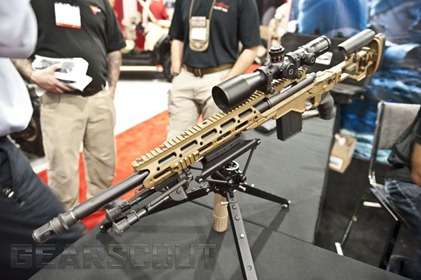 Check out the .308 Light Weight Remington Arms Chassis System built on the Remington 700 short action. The skeletonized chassis is Remington's offer as the Marines put out feelers for an upgrade to the M40 sniper rifle system. The LWRACS is a necked down version of the full-on RACS built for the XM2010 and PSR program entry. Major features include:
The new handguard has a smaller diameter than its bigger brother
A one piece fore end with a split top rail
The hinged butt stock is now removable
Separate indexed coarse and micro-fine adjustments for butt stock length and cheek pad height
Tool-free butt stock pad position adjustment
The 7075 aluminum chassis weighs 4.5 pounds
Check out GEARSCOUT for more.