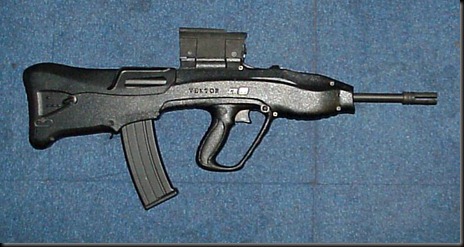 SPECS
Caliber: 5.56×45 NATO
Action: Selective fire. gas operated.
Length: 29"
Barrel length: 18"
Muzzle velocity: 3,215 f/s
Magazine type: Vektor R4 and Galil ARM style mags
Magazine capacity: 20, 35 rounds
Range of effective fire: 500m
Designed: 1997
The CR-21 stands for Compact Rifle for 21st century.
The CR-21 is not like most modern bullpups in that it is not ambidextrous. The extraction port is only on the right side and close to the shooters face.
The fire mode selector is behind the magazine while the safety selector is located at the front of the trigger guard unlike most Selective fire rifle that have the safety in the fire mode selector. The trigger and trigger guard are larger to allow the shooter to fire the weapon while wearing gloves. The cocking handle is located on the left side and does not cycle when the weapon is being fired.