I have been provided the materials needed for this review. However, my opinions are entirely my own and I have not been paid to publish positive comments.
I had no clue Nikon made sport optics prior to going to my first SHOT Show. I only knew Nikon as the company who had made my last 3 digital cameras and outside of that I really didn't know anything else.
The Nikon Monarch 3 6-24×50 SF Matte BDC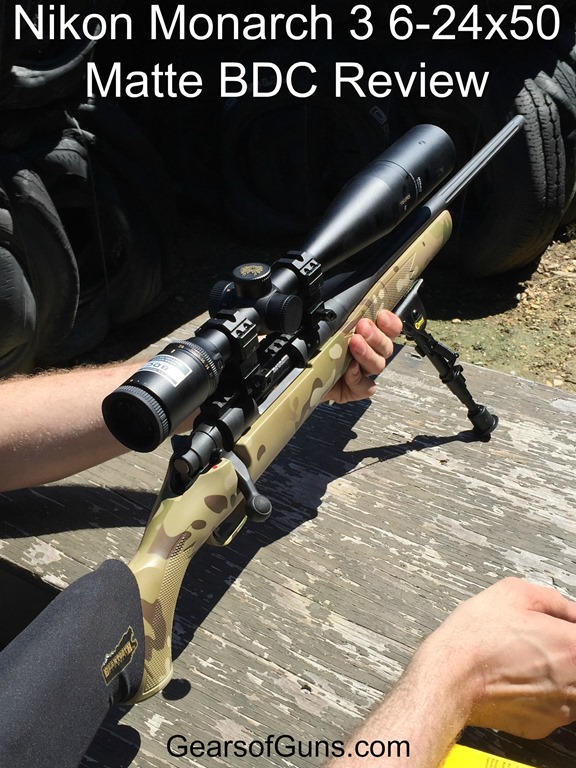 Specs
• Magnification: 6-24x
Objective Diameter: 50mm
Exit Pupil: 2.1-8.3mm
Field of View: 4.2-16.8 ft @ 100 yds
Tube Diameter – Other: 1 in
Eye Relief: 4in
Objective Outside Diameter: 57.3mm
Eyepiece Outside Diameter: 44mm
Weight: 20.5 oz
Overall Length: 15.5 in
Adjustment Graduation – Other: 1/8 in
Max Internal Adjustment: 30 MOA
Parallax Setting – Other: 50 yds – ∞
Side Focus: Yes
Waterproof/Fogproof: Yes
Spot On Custom Turret: Yes
Parallax Adjustment: Yes
Matte Finish: Yes
Use: Centerfire Long Range
Reticle: BDC (Bullet Drop Compensator)



The Rifle and Scope Combo
I am not a distance shooter, but I enjoy the time spent practicing. With that said, I do not at this time, see a reason for me to spend $10,000 on a rifle and optics because I don't shoot farther than 400 yards.
I just need a good bolt action and clear optic that will let me see 400 yards. I have mounted this Nikon Monarch 3 6-24×50 SF Matte BDC on my Mossberg ATR .308 which came with a inexpensive optic. The scope that came with the Mossberg was okay and worked out to 200 yards but it just was not a good scope for anything past that.
I wanted a scope to replace the old one and let me ring the gong at a distance.
In the Box
Nikon does not want to just give you the normal scope and paperwork. They want make sure you, the consumer, get what I like to call: the happy meal.
Open the box and be happy to see: Monarch 6-24×50 Side Focus Matte BDC, Nikon sunshade, Nikon low-profile adjustments with caps, target-style high profile knobs with caps and tapered easy grip knobs.
This means the scope comes with the inclusion of two additional sets of turrets. One set is a high profile (tall) turret for target and tactical shooters, (it includes the appropriate size high profile turret caps). You also get a wider style turret, which gives the shooter more real estate to make quick adjustment (the wider turrets do not come with caps).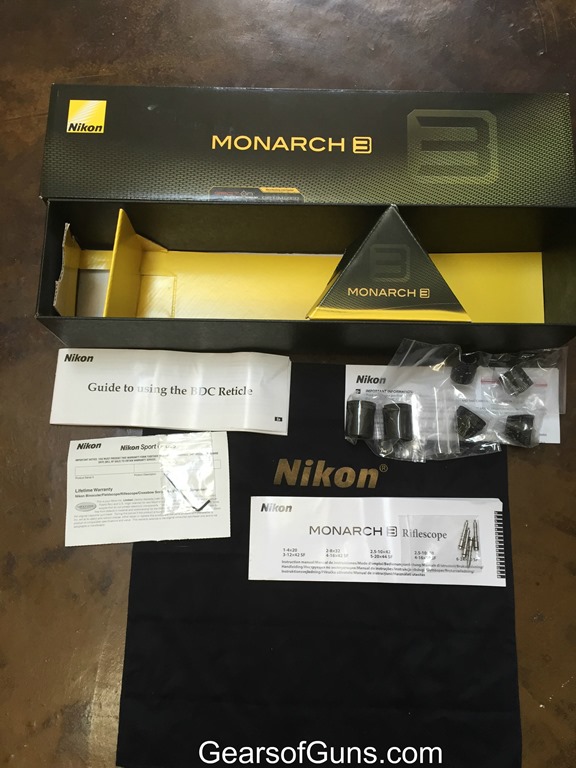 (Scope not shown due to already being mounted to the rifle)
The Testing
While I had wanted to send this scope on an Elk hunt on the Wyoming/Colorado Border. We did not have the time to do this before writing the review.
We did not put this scope through any durability testing outside of the normal bouncing it gets inside the pelican case in the bed of the trucks on the dirt roads.
The scope stayed zeroed in every time we pulled it out of the case after driving to the range.
Bullet Drop Compensator Reticle (BDC)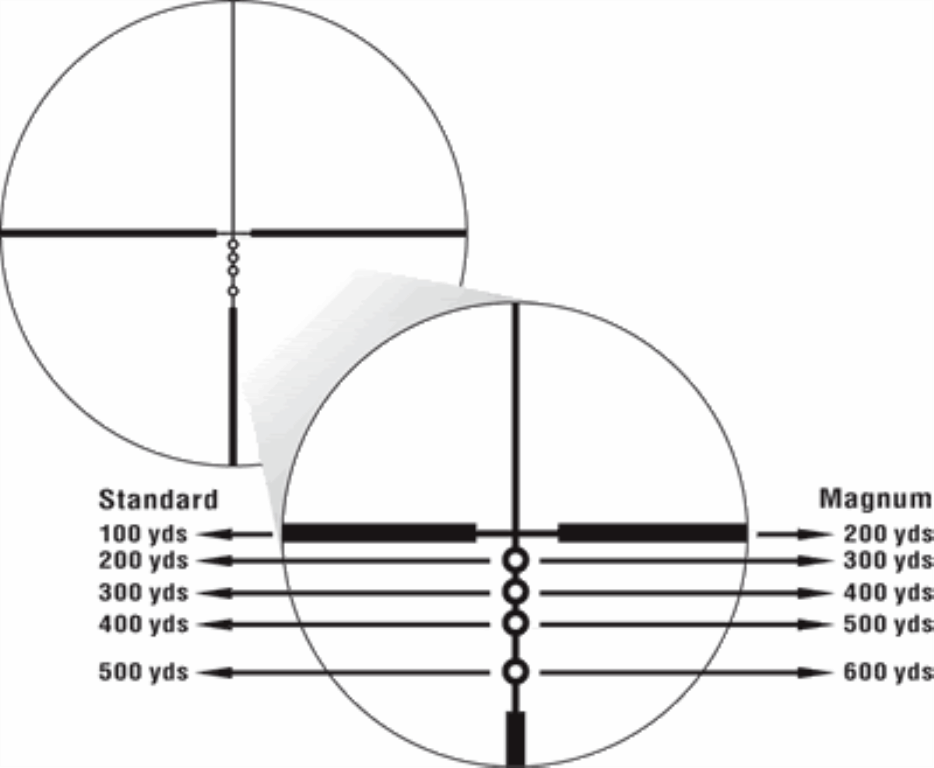 I like this reticle. Shooting a .308 bolt action using this scope made it easy to shoot at multiple targets at different ranges.

The Turrets
If you have not spend much time behind a tube scope, the turrets on the scope are how you adjust for windage and elevation. The benefit to a scope with turrets is that it allows the shooter to zero the rifle to a distance (We will say 100 yards for the sake the explanation) and then reset the turrets MOA markings to the zero mark so you can always return your scope back to the distance you had it zeroed in for.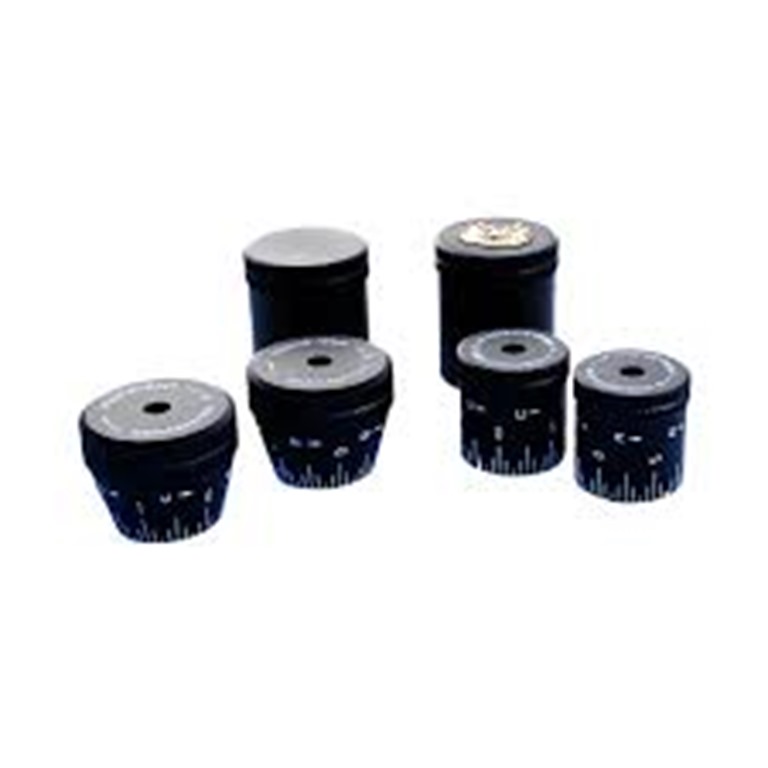 The turrets are not mushy. Each 1/8 inch click is positive and audible making for very noticeable adjustments.
Price
This scope is $699.95 on Nikons' website, but you can find it online for around $660. The price might not be what a newer shooter would want to spend for their first rifle. For someone who knows how to shoot at longer distance and is looking for a quality scope this price isn't going to break the bank.

Overall Thoughts
Nikon has pleasantly surprised me with a clear, easy to use and affordable scope.
I was very impressed with how clear the glass was. I would say that it is fairly close to the Leupold clarity I have in the multiple scopes I own of theirs.
The scope has three different style turrets for different types of shooters which is a big bonus in my book.
The quality of the scope meet the expectation set by the price.
I cannot speak to shooting past 400 yards but to that distance I can say this scope was clear and crisp.