The Noreen Bad News .338 Lapua ULR (Ultra long Range) Rifle
This rifle is modeled after the AR platform however the take down pins are farther apart than the AR-10 and AR-15 rifles causing the rifle to not accept an interchangeable upper like the AR-15 and AR-10 platform. This rifle does use some AR parts like the pistol grip, stock and trigger allowing for them to be changed.
The magazine on this rifle comes in a 5 or 10 round proprietary magazine. One of our sources mentioned that a 50 round drum is in the works.
.338 Lapua magnum goes for about $70 per 20 rounds =3.50 per round.
.300 Winchester Magnum goes for about $20 per box of 20 rounds = $1.00 per round.
.308/7.62NATO goes for about $7 per round 0.35 per round.
The recoil felt has been compared to firing a .243Win. The rifles muzzle brake and semi-auto action significantly suppress recoil.
The weapon disassembles like the standard AR platform for easy cleaning.
The manufacture of this rifle won a defense contract to make this rifle for military snipers.
Piston-driven semi-automatic action
Effective to 2000 meters with a maximum range of 4500 Meters
Accurate, powerful .338 Lapua round and .300 Win Mag
Modest recoil
Weighs just 13 pounds
Receiver is machined from a billet of 6061 T6 aluminum
MIL spec or adjustable trigger
26" barrel (1 in 10" twist)
One-Piece bolt Carrier Made from 8620 Steel
Custom muzzle brake
Full-Length picatinny rail on receiver
4 full-length, integral Picatinny rails on hand guard Magpul PRS Adjustable Stock Hard Case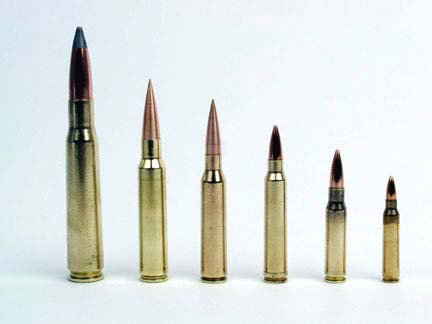 Left to Right: .50 BMG, .408 Chey-Tac, .338 Lapua , .300 Win Mag, 7.62 NATO and 5.56NATO.