I have been provided the materials needed for this review. However, my opinions are entirely my own and I have not been paid to publish positive comments.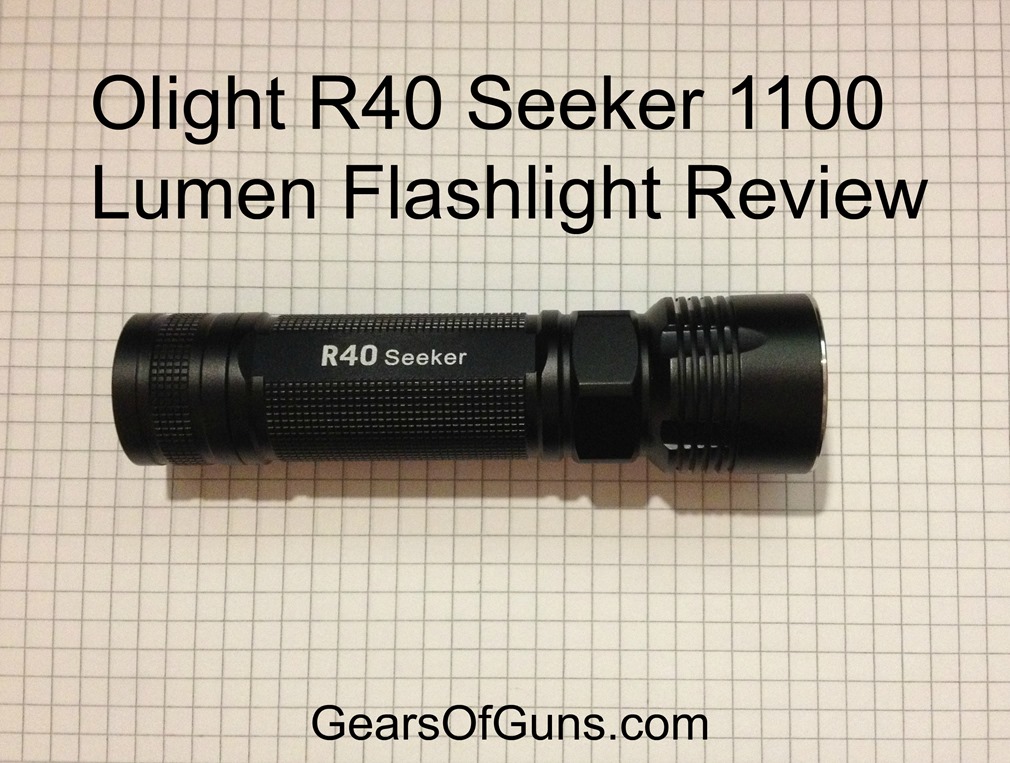 I have been carrying a few flashlights with me where ever I go for the past few weeks. People keep asking me why so many. I'm reminded of this joke…
A Texas Highway Patrolman pulled over an elderly lady for speeding. When he went to the car, he asked for her driver's license, and proof of insurance. The lady took out the required information and handed it to him. In with the cards he was somewhat surprised (due to her advanced age) to see she had a conceal carry permit.
He looked at her and asked if she had a weapon in her possession at this time. She responded that she indeed had a .45 auto in her glove box. The Patrolman could just  tell something wasn't right so he asked if she had any other firearms. She admitted to also having a 9mm Glock in her center console. At this point the Patrolman just had to ask one more time if that was all. She responded once again that she did have just one more, a .38-special in her purse. He then asked her what was she so afraid of.
She looked straight at him and said, "Not a damn thing!"
Introduction
I had never heard of Olight before I ended up on their mailing list. I have always been someone who didn't need an expensive flashlight because I never really carried a flashlight with me.  While I have had some good flashlights over the years, I normally just kept a cheap dollar store flashlight in my truck. Of course by the time I ever needed it, it would be corroded and worthless.
In the beginning of 2014, when I started going to the gym at night, I started to carry a flashlight with me. I have been on the lookout for a good everyday carry flashlight that is dependable and has good light.
After months of emails from Olight I decided to really check out their product line. I found the R40 Seeker interesting. This hand held light boast an impressive 1100 Lumens. I contacted Olight and request a test and evaluation of the Olight R40 Seeker.
Specs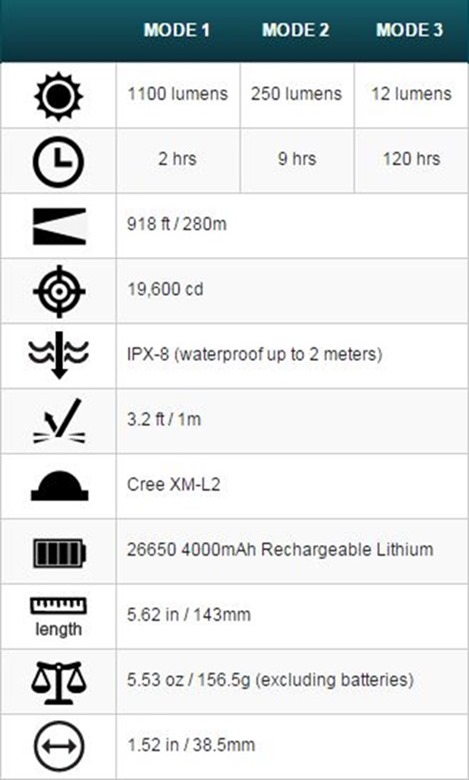 Usage
I have been carrying the Olight R40 Seeker for a month now. I have only had to charge it 3 times. First time was the day I got it. The next one during my testing and the last time was a few days ago just to keep the battery topped off
I haven't had any need for heavy usage but I try to use it every night. For my day to day usage this light works great. I haven't had any dimming problems or any other problems with just light to medium usage.
Testing
Olight says this light will run for 2 hours on mode 1 (1100 lumens). So I figured I would test this and see how hot the body of the light got.
The 1100 lumens is so bright that during my testing of keeping it on my desk at the ceiling turned on I started to get a headache. It took about 37 minutes for the light to get to it hottest point which is 104 degrees F. The light stayed at 1100 lumens for 2 hours and 12 minutes. In my experience with most of the LED flashlights, when the highest setting is 2 hour run time that means the flash light is dead and needs to be recharged. This is not the whole story with the Olight R40 Seeker. The battery is not completely dead and will still run for another 4+ hours on the lowest setting (mode 3 12 Lumens) For the first hour I thought this was a cool feature but as the hours past I was more annoyed than happy. I would rather have a light that has a full run time until dead rather than sitting there more battery life that I cannot use to the full lumen.
At hour 5 the 12 lumens would stay on for 180 seconds and then shut off and would do this every time you turned the flash light back on. At hour 6, the light would stay on for 10 seconds before turning off.
I did not find out the true length of time that the battery  life has because at 6 hours my head was hurting and hand tired from the constant turning the flash light back on.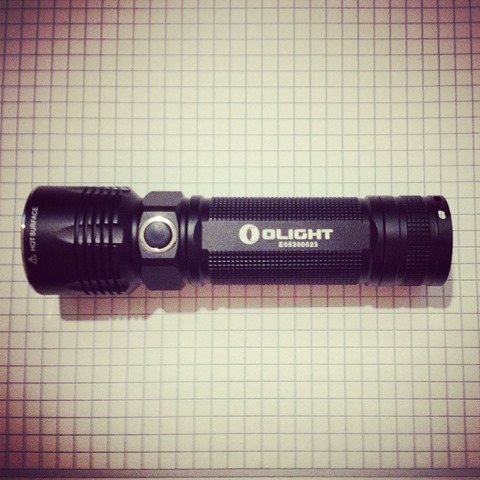 Charging
The light has a standard android style charging port on the back of the flashlight and uses a standard android style charger.
The charge time has been a consistent 6 hour charge regardless of the usage. This to me is about 4 hours longer than it should be, but I am not an electrical engineer. I have no background to say that isn't an impossible improvement. I just know that's what I would like to see.
The light uses a 26650 Lithium ion battery. Its not easy to get out. The only reason I make note of that is because you can buy that size battery and chargers if you wanted to keep spare batteries.
Final Thoughts
I like the size and feel in my hand, I like the 1100 lumens, and I like that it has a charging port on the light.
Things I wish this light had was a shorter charge time, full battery life on the highest mode, and a rear on/off switch on the battery cap vs. the charging port. The Olight R40Seeker is rugged and build to be dropped and used.
I asked a number of cop friends what they thought and they all agreed with what I have mentioned above.
If you are looking for a good light to keep in your truck or car for emergencies this is a great light.
I have found this light online for $120 which seems like a fair price for a 1100 Lumen single LED flashlight.