Do you ever wake up in the morning feeling like your life is needing to be more tactical?
Do you ever sit in your office wishing you could be playing with all the cool new picatinny rail attachments?
Do you ever wish you could be practicing acquiring targets with your new holographic sights while you are drink your morning coffee?
Does your life seem boring when you aren't out putting rounds down range on target?
Do you ever wish during off season that you could be out hunting that 12 point buck you have stuffed hanging on your wall?
Are you the kind of person who imagines that you are loading a magazine when you are changing the batteries in your remote?
Do the Monday blues get you down after a great 3-gun event weekend?
Do you ever wish you could be looking through your scope at the deer or other game on TV?
Do you wish you had more light when you are drinking your coffee while reading the newspaper?
Do you or your loved one ever get up at night and need a flashlight to get to the bathroom?
Do you ever imagine you are holding your pistol while watering the lawn with your garden hose?
If you answered yes to any of these questions we have the coffee (or beer) mug for you!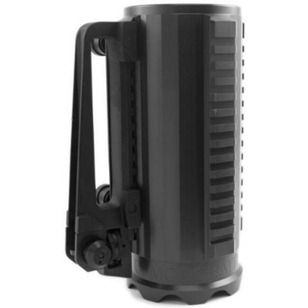 The OPMOD Battle Mug is like no other mug you've seen!
This massive mountain of a mug combines three Mil-Spec 1913 scope rails and a block of
CNC-machined 6061 T6 billet aluminum with the capacity to hold a sizable 24 ounces of your favorite frothy beverage.
The OPMOD Battle Mug is built to military specs – the rails are real military-specification rails, the handle is an actual AR-15 carry handle mounted to one of the rails, and the body is serious hard-core metal, machined out of a 13.5-pound solid block of aluminum.
You can load up the OP-MOD Battle Mug just like you would your trusty AR – pile on a scope, a laser sight, holo sight, or any other tactical gear you want. With its Mil-Spec Type III anodized finish and a crenelated base, the OP MOD Battle Mug is just as good for fending off foes as kicking back with a beer – though we recommend the latter.
Each one is custom-engraved with its own unique serial number and includes a removable AR15 carry handle. Last but not definitely least – the OPMOD Battle Mug is proudly made in the USA!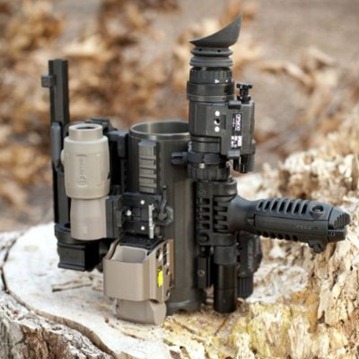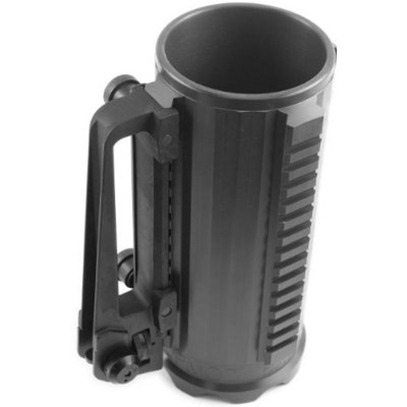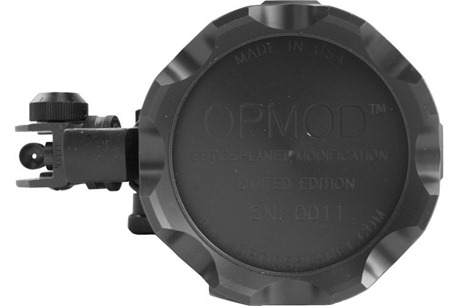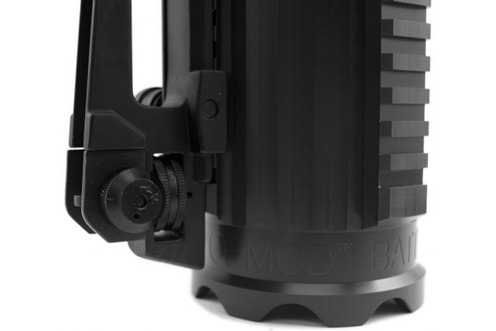 Material:
6061 T6 billet aluminum
Finish:
Mil Spec Type III Anodized
Features of OP-Mod Battle Mug:
Crenelated Base
3 Mil-Spec 1913 Rails allow mounting of handle and accessories
Machined from solid aluminum
Mil-Spec finish
Engraved serial number
Package Contents:
OPMOD Battle Mug
AR-15 carry handle
The mug goes for a hefty $249.99 which you can purchase HERE.
If you want to have the coolest mug on the block when you are having your poker game or just have a nice cup of Joe while out on the lease with your hunting buddies this is these is the mug for you.
This mug is great for storing your rail attachments while the gun is in the shop or you are cleaning the firearm.
[Thanks to Sangreiti for sending us the link.]