I finally got to preview the zombie annihilator on Saturday, and I have to say I was very impressed with what I saw. While there were a few minor issues with the weight  and cost of the rifle, these were only minor setback to the overall performance of this well designed weapon. Even thought it is a bit on the heavy side the Troy industries forward grip and the Magpul UBR collapsible stock manage to comfortably distribute the weight when shouldering the rifle. I really enjoyed having the ability to quickly adjust sights from large to small aperture using the Samson FFS quick flip sight. Picture this, you are being attacked by a hungry mindless hoard of undead foes the one thing you don't need is a lot of upward recoil when every shot counts. Equally important the A2 flash suppressor will limit your enemies ability to spot your position. The two stage trigger gives you a clean even break with each shot without extra resistance and the Magpul enhance trigger guard allows for plenty of room for mobility for even the heavily gloved finger.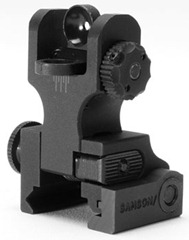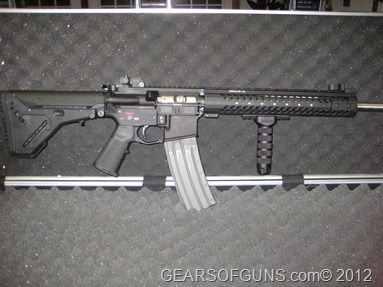 SPECS:
American Weapon Systems Forged Zombie Annihilator® Lower and Upper, Machined from Forged 7075-T6 Aluminum
AWS 16″ Mid-Length LW-50 Stainless Steel Barrel 1:8 Twist Polygonal Rifling, With .223 Wylde Chamber.
AWS Nickel Boron Coated M16 Bolt Carrier
Two Stage Trigger: Geissele
Magpul UBR (utility / battle rifle)
Magpul MIAD (Mission Adaptable) Grip
Magpul MOE Trigger Guard
Surefire 60 round high Cap Mag
Forward Grip: TROY Industries, Modular Combat Grip
Samson Low Profile Gas Block
MechArmor TacOps-1 Charging Handle
A2 Flash Suppressor
Samson FFS & FRS Quick Flip Sights
Overall Impression:
I know this review might sound a bit one sided, however I really enjoyed test firing this awesome rifle. After about 100 rounds, I can say my impression of the sleek and versatile design is a testament to American Weapon Systems ability to forge a mean zombie killing machine.
Be sure to check out American Weapon Systems and pick your rifle today.