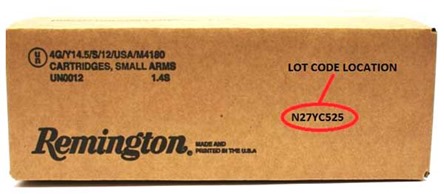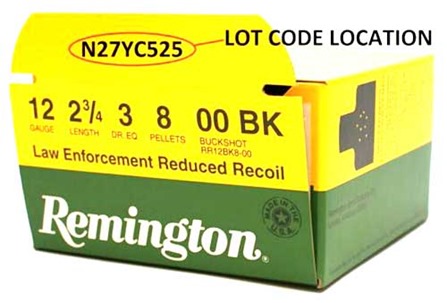 REMINGTON LAW ENFORCEMENT REDUCED RECOIL 8 PELLET 00 BUCKSHOT
RR128B00 (Item 20645) – LOT NUMBERS:
N27YC525 N29YA525 P02TA525 P03TA525 P06TA525
N28YC525 N29YB525 P02TB525 P03TB525 P08UB899
N28YB525 N29YC525 P02TC525 P05TB525
Remington has determined that the lot codes listed above may contain rounds with improper propellant charge weights. Improper propellant charge weights may cause malfunctions which may result in damage to the firearm, serious personal injury or death.
To identify Lot numbers:
For CASES, the Lot Number is stenciled on the outside of the case; and,
For BOXES, the Lot Number is stamped on the inside flap of the box.
If you have any of the ammunition identified above, immediately discontinue use and contact Remington at 1-800-243-9700 begin_of_the_skype_highlighting
FREE 1-800-243-9700 end_of_the_skype_highlighting, Prompt #3. We will arrange for return shipment and, upon receipt, will send replacement ammunition at no cost.
If you are unsure if you have one of these Lots or if you have mixed boxes of ammunition, please immediately discontinue use and contact Remington.