Specs
Caliber: .357 Mag. (.38 special*)
Capacity: 5 round rotary magazine
Finish: Brushed Stainless
Barrel: 18.50″
Twist: 1:16″ RH
Overall Length: 38.50″
Weight: 5.50 lbs.
The Ruger  77/357 is chambered in .357 Magnum but will also chamber a .38 special.  Since the .357 and .38 have different length brass the .38 spl has room to move in the rotary magazine and occasionally the rim of the top round will get caught behind the round below  and causes what Ruger calls a "Rim lock"  jam. Ruger stated in a email they sent us saying "The incidence rate of this malfunction is fairly low, and varies by ammunition type."
The gun was designed to shoot, and will shoot best, with 357 Magnum ammunition, but If you want to shoot .38 Special out of the 77/357 you can do so, but you cannot blame rifle  if it does not cycle perfectly.
We also asked why they chambered this rifle in the .357 mag and they stated that it is due to a response to to customers requests and is effective tool for hunting medium-sized game even in a heavy wooded area. The .357 mag round has an increase in bullet velocity when fired out of the 77/357 over a .357 mag revolver.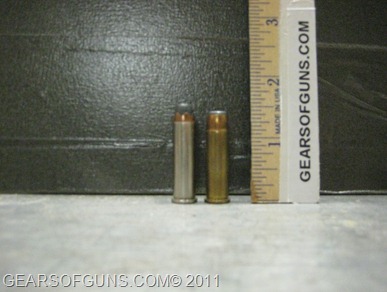 L-R .357 Magnum, .38 Special