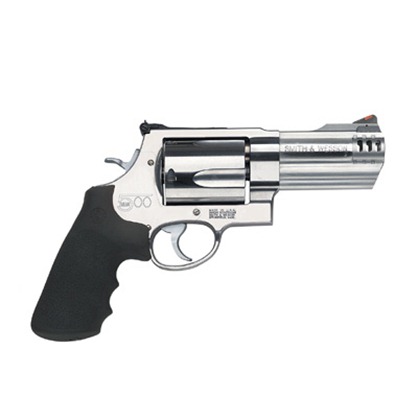 Caliber: .500 S&W Magnum
Capacity: 5 Rounds
Barrel Length: 4″ / 10.2 cm
Action: Single/Double Action
Frame: Extra Large
Overall Length: 10.25″ / 26.0 cm
Weight Empty: 56 oz. 3.5 lbs.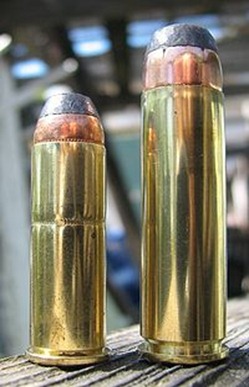 L-R .44 mag, S&W .500 mag
One of the gentleman from my old scout troop use to talk about how the pistol he wanted was a Smith and Wesson .500 and when ever asked what he planned on using it for he would always say "Nothing, I like like big guns."
I love big guns too and would love the chance to take this pistol out but at current prices for the .500 Magnum round ($1 per round) I think this is one gun that it will be while before I get to use to send some lead down range.
• Most Powerful Production Revolver in the World Today
• Massive .500 S&W Magnum® Cartridge 2600 ft/lb. Muzzle Energy
• A Hunting Handgun For Any Game Animal Walking
• Recoil Tamed with Effective Muzzle Compensator
• Internal Lock
• Ultimate Defensive Carry and Dangerous Game Backup Handgun
• Easily Removable Muzzle Compensator for Different Recoil Reduction Effects and to Accommodate Different Types of Ammunition
• Comes with 2 Compensators; 1 for Lead Bullet and 1 for Jacketed Bullet Ammunition
• Muzzle Energy Capability in Excess of 2000 ft/lb. in a 56 oz. Package
(From the S&W website)