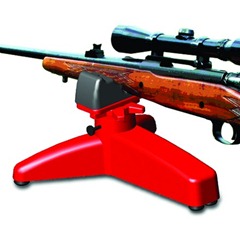 Kel Tec was gracious enough to sent out out of their SU-16CA rifle for us to do a review on a few months ago and I have been trying to push this gun to its limits and it has exceeded my expectations.

Caliber: 5.56 NATO.
Magazine: (2) 10 Round detachable box. Accepts standard NATO M16/AR magazines.
Barrel: 18.5″
System of Operation: Semi-automatic
Overall length: 36" open 25" folded
Weight (unloaded): 4.7 lbs
This was a fun gun to review. The end tally of rounds we shot through this rifle before shipping it back was 1700+ rounds.
I had read a number of different  other reviews on this rifle before we got our hands on it and I noticed most of them said that they liked the gun and it was easy to use and blah blah blah nothing really exciting that made me want to buy this gun for any other reason than it was reliable. I wanted my review to be focused in a different direction other than just a few range reports. As I mentioned before we shot little over 1700+ round through it, during that time (Kel-Tec in no way suggests or recommends in anyway that you do or try this with your rifles) we never cleaned the rifle over a 2 1/2 month time period.
The rifle uses a piston gas system which limits the amount of gas sent back into the chamber making the rifle run in some cases cleaner. (Due to some problems with my camera while I was cleaning the rifle to be shipped back I didn't get the chance to take pictures of the rifle dismantled to show you the piston)
I pulled the rifle straight out of the box and took it to the range. Normally I would strip the rifle down and oil the rifle myself but I felt if I was going administer this test I should show using the oil Kel-Tec uses vs. the over oiling I like to do on my rifles. First 1001 rounds we shot no problems the gun functioned beautifully. Round 1002 we had our first failure to feed so we chambered the next round shot fine but chambering the next 3 rounds seemed slow 1006 and 1007 both ejected the spent brass but did not feed the next round. I pulled the bolt and piston grouping out of the rifle put two drops of gun oil on the piston rod put the gun back together and the rifle shot just as if it was just cleaned and oiled.
Over the next 6 weeks we finished putting the last 700+ through the rifle and it shot beautifully.
The fore grip on the rifle is also a bipod which I found in the seated position didn't work very well and bounced all over the table and sometimes would completely collapse after taking your first shot. I never tried shooting from the prone position but I have a feeling that it would be similar to what I found when standing with the rest on a table which was that it was a bit more stable but still not as good as the  shooters rest we have out at the range.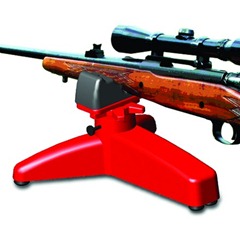 Shooters rest.
Stay tuned for the completion of my review of this rifle on Wednesday.