At SHOT Show 2014 I met Clay Rhoden one of the co-founders of TARGETVISION at media day at the range. Having just finished reviewing a similar short range target camera viewing system, I was interested in seeing what TARGETVISION had done differently. Two of the most noticeable things I first saw was that it was a self contained camera and wireless transmitter housed in a plastic tube vs. the tool box the other company uses. The other thing was the HD camera that they use.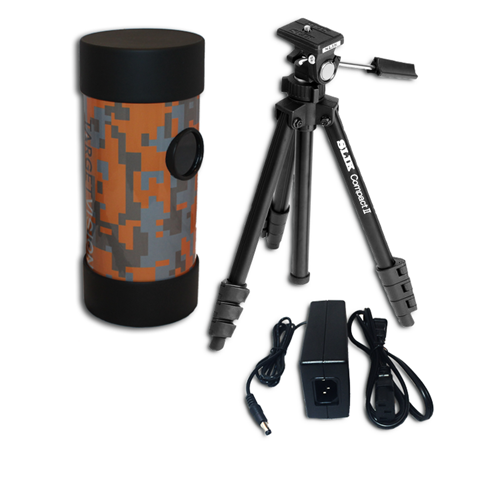 There were three items total that were shipped to me. The camera system, the charging cord and a small tripod that the camera screws into. This means there isn't much to misplace. This is a big thing for me since I carry a large amount of gear to the range.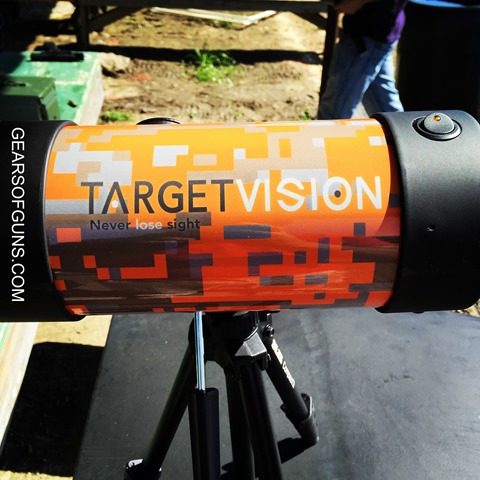 When I first used the camera, the picture (seen below) was blurry. I called the company from the range and spoke with Clay at TARGETVISION. He, at first, thought it might have been a defective camera. After a couple of conversations, he wanted me to try some different things before we shipped it back. In the meantime, for whatever reason, the camera recalibrated itself when we got home and the next week we had a very clear and crisp video.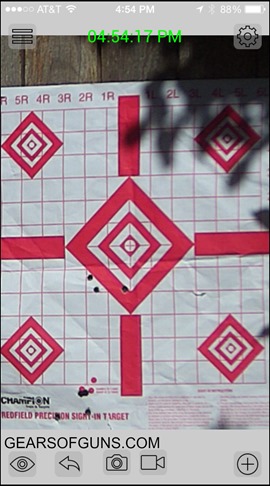 I am a red blooded male and I admit I do not like to read manuals. As a reviewer, I admit, I should know better. TARGETVISION sent not one, but TWO guides. The 19 page manual and birthday card size quick start guide. Again, I did not read either of them and I thought more was wrong with the camera than really was. The camera tube is meant to be 10-15 feet away from the target and off to the side so you do not shoot it. We were use to my other system, which sits about 6 feet away from the target. Don't be like me and skip reading the important information TARGETVISION sends you. It is not because they want to send you one more booklet for you to lose but so you know how to use your $595 targeting system.
Setting the System
As you can see in the pictures, there are no wires you have to mess with. The TARGETVISION System is pretty much turn the device on, connect to the devices to wifi, open the app and shoot.
App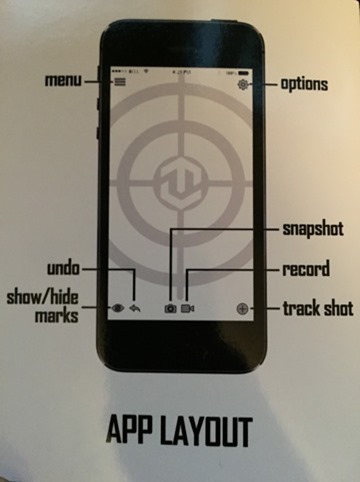 I used the system on my iPhone 4s, 6 and my android (don't judge me) tablet. The system worked great across all three devices. I do prefer to use the tablet over the phones simply because of the larger screen.
Overall Thoughts
I am a big tech fan and I like seeing how new technology is helping me become a better reviewer and better shooter as we have more and more things to assist in giving us instant data to get the round on target better and faster.
I have to note that when the TARGETVISION system is sitting in a 100 yard long wind tunnel with 12 foot high walls of steel belted radial tires the camera does not always connect quickly or stay connected. I don't spend much time in them so it wasn't really a problem but it was worth noting. This has to do with how wifi signal carries and not the device.
A feature I would like to see is integration of a ballistic calculator in the app. Also on that note, I would like to see more community involvement so integration can be like the health app on the iPhone which allows you to better track your health with different devices all in one app. The more data we can share all in one place the better and safer shooters we all become.
TARGETVISION is one of the companies who first had a product like this. I liked the camera for 3 reasons: It was easy to set up, easy to use, and all self contained. Being able to mark your shots is important but it is a feature on the other cameras so it doesn't play as much of a factor into my review as that is the norm.