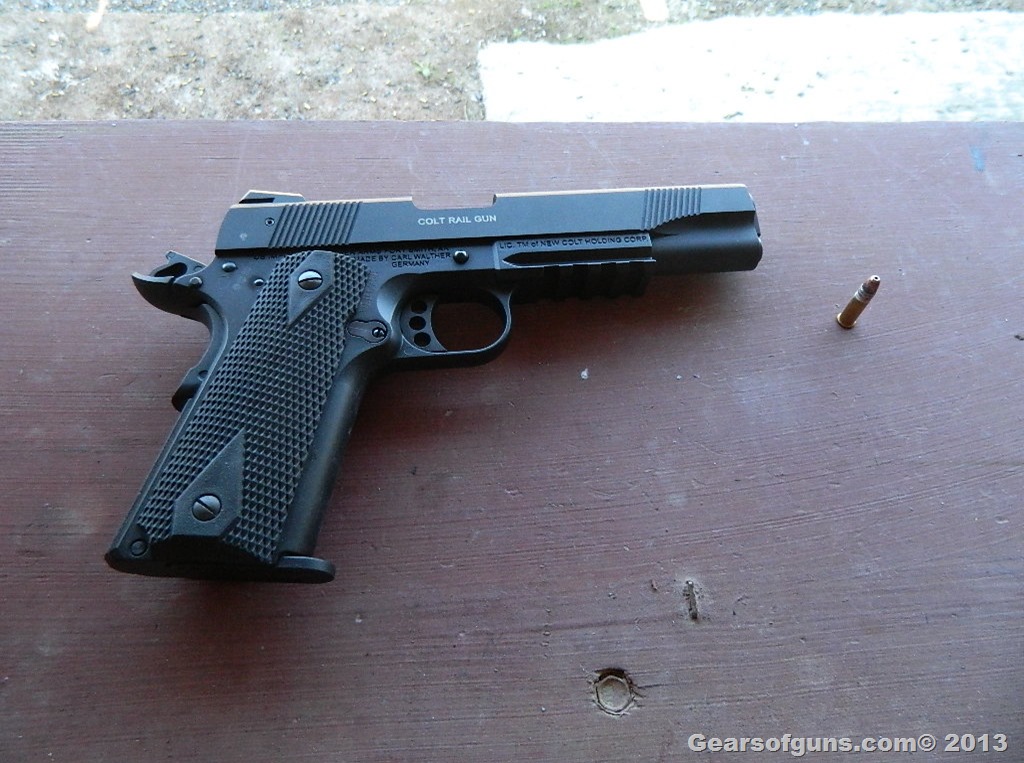 Caliber: .22 Long Rifle
Mag Capacity: 10 or 12 rounds
Weight w/out Mag: 2.25 lbs
Overall Length: 8.6 in
Barrel Length: 5 in
Barrel Twist: 1 in 13-3/4 in
Grooves: 6
Operation: Blowback
Trigger: Single Action, 5.5 lbs
Rear Sight: Drift Adjustable
Front Sight: Removable, Drift Adjustable
Safety: Manual Thumb Safety, Grip Safety, Disconnector
Extractor: Internal + Pinned Ejector
Muzzle Thread: M8x.75mm
Last year I reviewed the Colt Government 1911 A1 .22lr that was made by Carl Walther and distributed by Walther Arms (distributed by Umerex when the review was written). At SHOT 2013 Walther introduced the FDE 1911 Rail gun.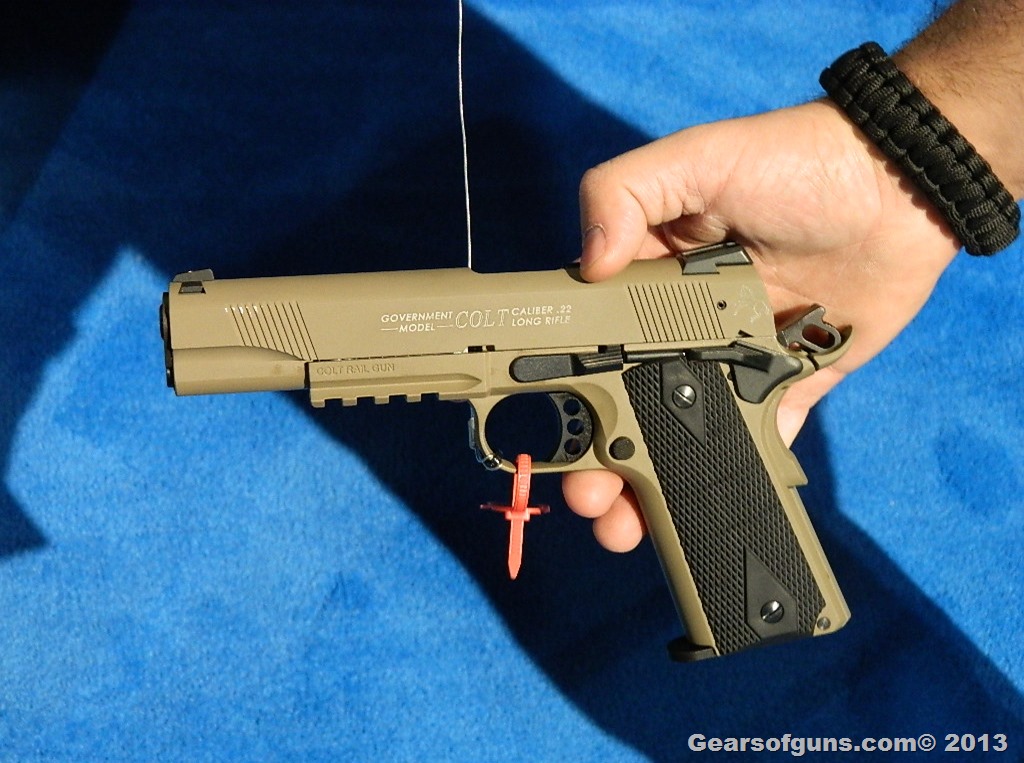 I wanted to get my hands on one to review so I contacted Walther a few months back to see if we could review the FDE (Flat Dark Earth) but due to a shipping error we got the black rail gun instead (same gun just different paint jobs).
Short history of the name:
The Colt 1911 as suggested by the name was formally adopted by the US Army March of 1911 and given the designation M1911.
Looks:
Since this is a replica of the real 1911, Walther made this gun to look and feel like a full .45 ACP 1911 straight down to the weight which matches the the real colt rail gun.
I think the 1911 is a work of art that has clearly passed the test of time.
Feel:
The gun is not made of plastic so it doesn't feel like a toy in your hand. This feels like a real Colt 1911 because it is one.
Price:
The Colt 1911 Rail Gun chambered in .45ACP retails for around $1,200 where as the Walther Colt Rail Gun chambered in .22LR MSRP is $449.99 for the black and $499.99 for the flat dark earth.
.22 Caliber:
The .22 caliber 1911 has a few benefits really worth talking about.
1. You can train with the .22 version at the range if you plan to carry a full frame 1911 and not worry about spending the $18 for a box of 50 .45acps
2. You can train with use of a new laser or flashlight that you plan to attach to your full frame 1911 rail gun.
3. Smaller children can shoot this gun without worrying that the recoil is going to hurt them.
4. .22 LR is a fun round to shoot all day without worrying about how much it is costing you.
Shooting:
This gun shot every type of .22LR rounds that we could find without malfunction. I really enjoy going to the range with this gun. It feels like a real Colt 1911.
Overall Thoughts:
The 1911 is one of my favorite pistols of all time.
The Walther Colt 1911-22 is a great addition to anyone's collection who is looking for a quality .22 version of the iconic 1911.