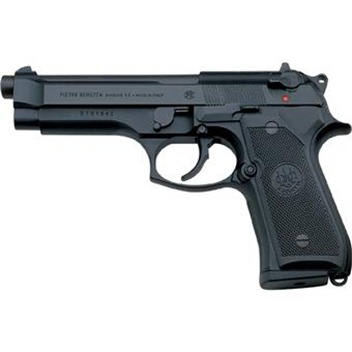 While it's hard to name a favorite pistol, just as it is almost impossible for someone to name a favorite child, I do have to say that I really do enjoy the Beretta 92FS.
I have never had an issue with this gun. It does what it is suppose to do. Every single time. So much so, that it could almost get boring.
Sure, it's not the newest, flashiest pistol. But it gets the job done admirably. Yeah, when compared to some of the new polymer pistols, it's a boat anchor. But that extra weight reduces recoil to almost nothing. Its 15+1 capacity is great, but nothing like the capacity found in some of today's pistols.
The United States military adopted the Beretta 92FS — military designation M9 — in 1985, and it remains standard issue to this day.
One area that the 92FS excels at is accuracy. I have been consistently impressed with how accurate I can be with this gun if I do my job. At distances of 65 yards, I am able able to reliably hit standard 4″ shotgun clays with the 92FS.
Some may complain about the double action to single action transition. But, just because you have the option to shoot double action doesn't mean you have to fire that first shot double action. With practice, the double action to single action transition is easily overcome.
The 92FS is not a small pistol, and as never intended as such. This is a full-size duty pistol. It does not have the slimmest grip nor the shortest trigger reach. But surprisingly, I've not found it to be a problem. Even with petite female shooters with small hands. In fact, the 92FS has become a favorite with my wife in spite of her small hands.
If you have not had the opportunity to spend some time with a Beretta 92FS on the range, then you are missing out. The 92FS is a pistol that I believe everyone should try out at least once.
————————-
Aaron Spuler
aaron@weapon-blog.com
http://www.weapon-blog.com