The conclusion to the gears review on the AWS ZA-15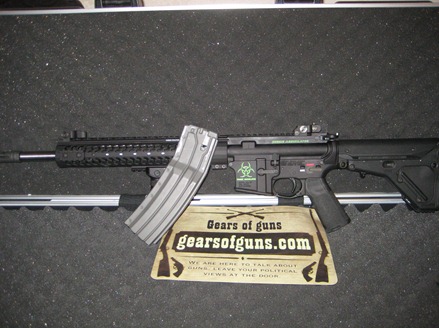 First I have to say I had no input about what went onto this rifle. They built the rifle and shipped it to me and when I opened it at my gun shop it was the first time I saw and knew what was on this rifle.

APPEARANCE:
This model is engraved with ZOMBIE ANNIHILATOR and a biohazard symbol which makes this a GREAT zombie killer. Without the paint and engraving the rifle looks like a standard AR-15. More than that the gun has a number of features that make this a great gun.
STOCK:
They put the UBR (utility / battle rifle) stock on this rifle which is a bit bulky but has a great feature, the cheek rest, which does not move with the rest of the stock. This lets the shooter have a nice full cheek wield. It comes with a compartment which holds (6-7) .223 rounds. I didn't want to take all of my EOtechs apart and pull the batteries out but it will hold a few CR123 batteries or a few AA or AAA batteries. The storage compartment in the stock is removable and the door is reversible.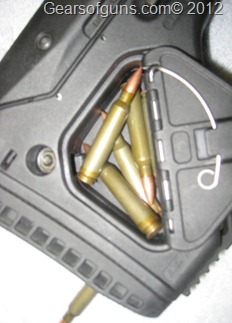 Sling mount specs:
Front/Rear – Reversible QD swivel sling mounts fit up to 1.5″ push-button swivels (swivel not included)
Bottom – 1.25″ sling loop
[Found on the Magpul website]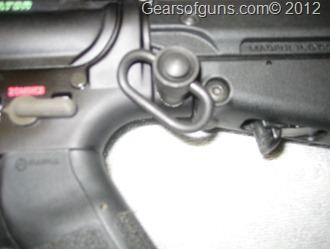 FELT RECOIL:
The felt recoil is low and of the few people outside of the GEARS crew that shot it only one person disagreed, but everyone has their own opinion. Old man lefty made the comment that it had lower recoil than the Kel -Tec SU-16CA. Gun Bunny made an observation that you can hear the buffer tube (action) spring when the rifle is fired. This did not affect the rifle but it was a curious thing to hear.
MAGAZINES:
The magazine they sent with the rifle was the 60 Round surefire magazine. Since we are out of Texas this magazine is legal (if you want your rifle to come with this magazine please check with your local laws). The magazine had no problems and functioned perfectly. Since I am not a competition or tactical shooter I do not have any comments about using this magazine in a competition or in a tactical situation. I fired 60 rounds in as fast as I could pull the trigger and the rifle shot normally. I did like having the 60 rounds to sit and shoot without having to reload or change mags.
Reloading took me 120 seconds to pull each round out of my loose .223 ammo box and hand load. All 60 rounds fed with about the same (felt) spring tension as the 1st round loaded. I did not use a maglula (speed loader) with this magazine because I do not have one at this time.
FIELD STRIPPING:
Since this a a standard AR-15 there are not any special things that have to be down to field strip this rifle.
ACCURACY:
From 25 –50 yards the rifle held tight groupings with 10+ shots in a quarter size hole. I did not test it at any longer ranges.
SIGHTS:
The Samson FFS & FRS Quick Flip Sights are spring loaded which makes popping them up fast and easy from the rifle hanging on your side from a sling.
The sights were on target when I got the rifle so I didn't need to adjust them. They are an all metal construction so they are solid when you are walking around with the rifle from a sling and they fold so you are not getting the sights caught on your gear.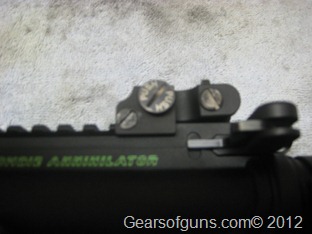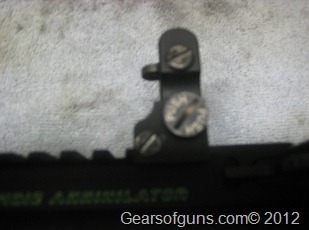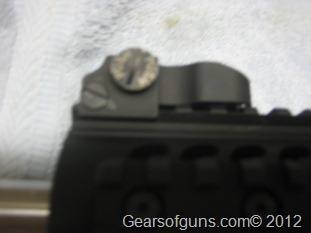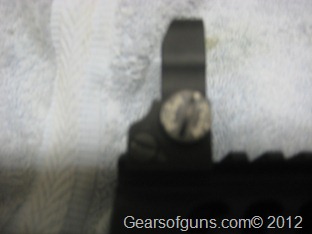 RAILS:
The standard ZA-15 comes with 18'" rail on the top (2) 1 3/4" on the left and right sides and one 4 3/4" rail on the bottom that has the TROY Industries, Modular Combat Grip.
WEIGHT:
The weight is around 11-12 pounds (unloaded) which is on the heavy end of the mid length 16" barrel AR-15's weight. (for comparison my M&P15 comes in at just under 7 pounds with a 16" barrel). The rifle uses a heavy barrel for improved accuracy. I wouldn't want to be firing from an unsupported or standing position all day with this rifle but with support this rifle is an okay weight.
CASE:
AWS sent the rifle in a SFR 5013 Double Rifle Case which is a TSA approved case. By shipping in this case it protected that rifle better than the normal cardboard box and packing peanuts.
Fore-Grip:
The TROY Industries, Modular Combat Grip AWS put on the rifle is nice. It unscrews so you can change the size for your shooting preference.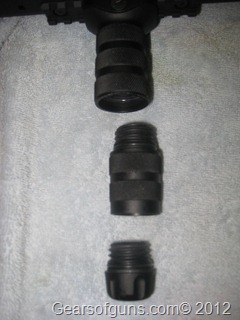 TRIGGER:
The Two Stage Geissele Trigger has a nice clean break when fired and one of the most smooth and clean triggers I have ever had.
Charging Handle:
The MechArmor TacOps-1 Charging Handle has a charging handle latch on the right and left side of the handle making it easier to charge the firearm left or right hands and while the rifle is in different positions.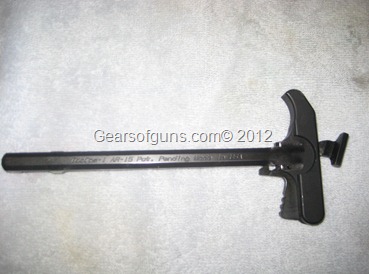 HAND GRIP:
I liked the Magpul MIAD hand grip because you can change the back and front straps. This allows you to find the most comfortable grip for shooting and reduce hand fatigue from shooting all day.
DUST COVER:
This made most of the people I showed this to at the range smile.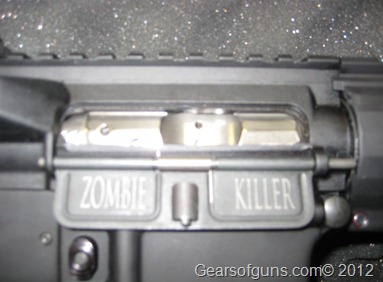 NiB-X NICKEL BORON:
While I did not have any issues with it, I would like to do more testing with the nickel boron before I make any more comments about how good or bad it is. Two different shooters and gun smiths I respect both have completely different takes on Nickel Boron so I need to test more for myself and my own understanding before I would recommend it.
PROS:
Fun to shoot
Low Recoil
Easy to shoot
Easy to clean
Stock is adjustable for different shooters
Candy cane breaking trigger pull (clean snap)
Draws attention when at the range
CONS:
Weight is heavier than I like.
OVERALL THOUGHTS & COMMENTS ON THIS RIFLE:
Overall I loved this rifle and would love to own this rifle.
The price is high but when you put all the parts together into one rifle the price is reasonable.
Great gun, fun to shoot and worth the price for the time and care American Weapon Systems puts into each gun.
While AR-15s and AK-47s are two of the most copied designs of guns that doesn't mean they are all the same. American Weapon Systems is not a mass producer of AR-15s which lets them devote the time to customizing rifles to their clients wants and needs.