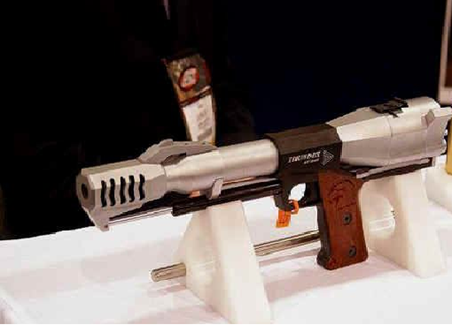 Specs
Caliber: 50 caliber Browning Machine Gun (BMG)
Type: Single Shot Handgun
Action: Scissor breach(swing-down breech)/separate cocking lever/separate case ejector
Empty Weight: 12lbs
Barrel Length:13.2″
Overall Length: 16.9″
Trigger pull: 1 to 12 lbs. – Factory set to specifications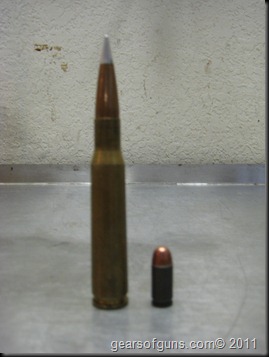 L-R .50 BMG – .45 auto
Here is a pistol straight out of the "why-in-the-world" file
I was sent a picture of this gun a about a month ago asking me if knew the thought process behind the need to have a .50 BMG pistol. So far the only reason I can see to have one is just to WOW everyone down at the range and have the biggest baddest pistol on the block.
This pistol has a high efficiency muzzle brake and "Nitrogen recoil controller" (a shock absorber) so when firing this gun you don't rip your arm off trying to contain the recoil of the .50 BMG.
This gun never made it out of the prototype stage which is why I am not endorsing, prescribing or suggesting this pistol as your new CCW (concealed carry weapon). The cons I can see to this as your new carry weapon would be the reload time. The ammo is so big and expensive you would only want to carry maybe 5 extra rounds with you… however if you ever needed to pull out this gun you wouldn't ever have to shoot anything for the sheer fact one look at the size of the gun and the threat it is going to run away as far as it can with it/their tail firmly lodged for a good long time.
This pistol was introduced at the 2004 shot show by Triple Action, LLC.