Are you in the market for a new, non battle destroyed, Humvee? (not to be confused with a Hummer) AM General the manufacturer of the original HMMWV (High Mobility Multipurpose Wheeled Vehicle A.K.A. A Humvee) is now selling kits to build your own GENUINE HUMVEE C–SERIES truck.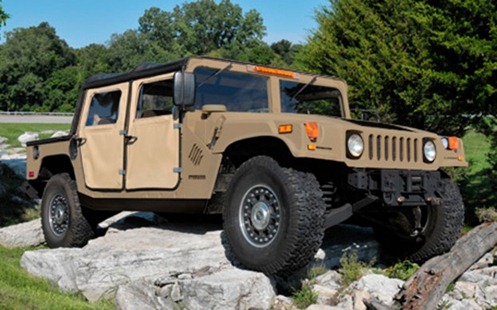 The HUMVEE C-Series Kit is designed and intended only for civilian use. Almost all of the basic parts are supplied with the exception of the powertrain (Engine, Transmission, Transfer case and Drive Shafts).
Body with 2800 Installed Rivets
Chassis ASM w/ Springs, Cross-Members, Geared Hubs, Half–Shafts, Torsen® Differentials, and CoolPack
Fully Painted and Dressed Hood (LED Lighting Package, Wiring, Grill and Hoodlatch Hardware)
Soft Top w/Soft Doors
Main and Secondary Fuel Tanks
Durable Interior Trim with Camouflage Accents and New Gauge Pack

[BASIC HUMVEE C-SERIES KIT]
The website offers more upgrades and options.
The basic kit starts at $59,995 and they are scheduled to be available in the spring of 2013.