I was talking with someone the other night about guns (Yes, I do talk about other things than guns… sometimes) when they asked what I thought was the 5 top new innovations were in the industry. This is a topic I have been wanting to write about for a while, I just have never had the words.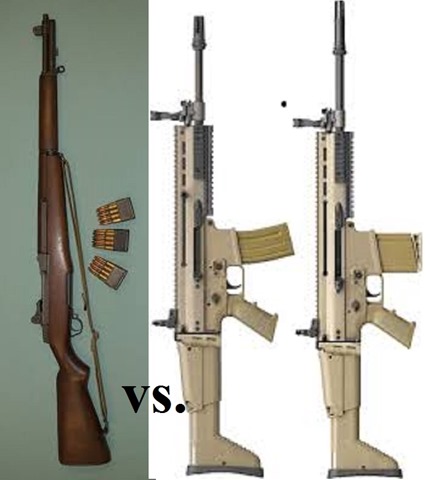 When it comes to the gun industry we have cycles we go through. The inventing and learning cycle and what I call the modernizing of the wheel. In the inventing and learning cycle we have invented things like the tube sights for long distance shooting and learned things like rifling. With the modernizing the wheel cycle, which we are currently in, we are just finding ways to make these older designs fit the 21 century.
In the 1950s and 1960s the .308 Winchester and the .223 Remington made their debut in the in the shooting world and we are still using them as a our standard calibers. The FN-H SCAR is a modernized version of the FAL. The target cameras are the updated version of a spotting scope.
Don't get me wrong, I am happy with the advancements we have made. However, I want to see something new. I want to live in a time like my grandfathers era when a lot of new things were introduced.  He saw the explosion of "modern guns with the invention of the  "plastic gun" or "black gun", He also saw the invention of the standardized 30 round magazines as well as being able to control the muzzle climb with an intermediate cartridge.
I am not saying we don't live in a time without people like Eugene Stoner and Mikhail Kalashnikov.  I am just saying we haven't really seen something that has made a small arms like the M16 or M14 go almost obsolete. We saw the M16 quickly replace the M14 as the US service rifle in the 1960s.
As strange as it might seem, history shows us that the government is the main reason for innovation and invention in this industry. Until a government demands a new product to suit their new need, we do not see new creations. A government contract can be in the price range of billions which goes towards R&D and eventual release to the general public.
While some might think with the increased use of drones, it may be a long time before we see anything new.  I am a believer that we will always need boots on the ground, if for no other reason than for intelligence gathering, for aid and for maintaining goodwill.  I am excited and hopeful for the future of our industry.