I have been provided the materials needed for this review. However, my opinions are entirely my own and I have not been paid to publish positive comments.
On the last day of SHOT 2014 I met the president of Extreme Beam, David Wilson. He introduced us to his company and and their mission to be "A shining light in the face of darkness".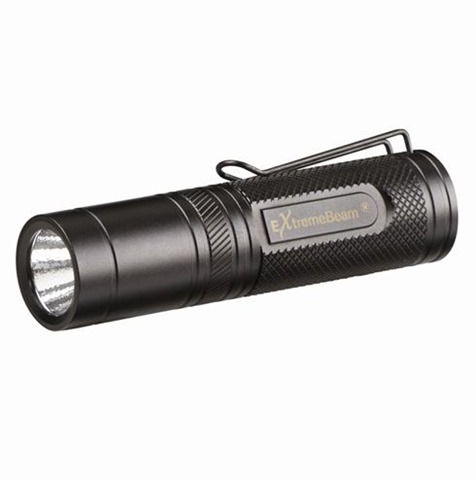 After talking with him about flashlights, God and guns for about 30 minutes he offered me a flashlight so we could review and see what we thought.
Specs
Alpha-TAC SAR7
"The S.A.R. Series is ExtremeBeam's answer for a subcompact, high- intensity, long range microlight. Designed to withstand severe conditions with its high density, waterproof aircraft aluminum housing and its impact resistant glass lens, the S.A.R. Series will meet your needs.
While small enough to fit in a shirt pocket, the output of the S.A.R. is anything but small. The S.A.R. outperforms many lights 3 times its size and is among the brightest and most advanced microlights available today, capable of working with both rechargeable and non-rechargeable CR123 batteries of any voltage." Extreme Beam website
· Anti-Recoil® up to .223Cal
· Modes: On-Off
· Weight(with battery) 58.6 Grams (2.1 ounces)
· Total Length: 80.12mm (3.15 inches)
· Width: 21.59mm (.85 inches)
· Average Run Time: 1 hours
· Light Volume: 130 Lumens
· Light Projection: 137 Meters (450 feet)
· Battery Type: 1, 3.0 CR123 batteries
· Reflector Finish: Mirror-like
Everyday carry (EDC)
Since February almost every time I leave the house I have this in my front pocket (exception of when I am at my other job that involves corrosive materials). In February 2014, I made some changes to get back to better health and fitness. For anyone who knows me well enough in my real life, knows I love working out and that I work out late at night.  I am in the dark of night for hours on end. Something that shocks most of my friends, is that I do not conceal carry. I haven't been someone who has a big EDC list.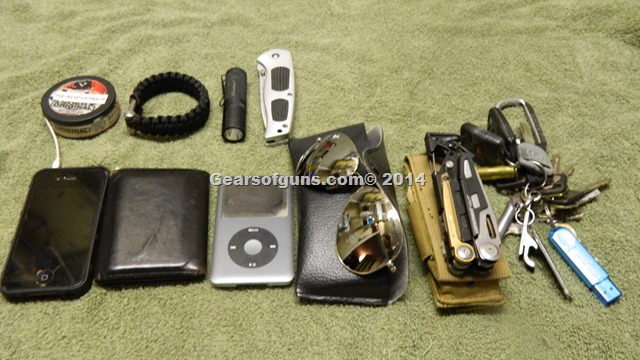 Since February this is the list of my EDC
1. iPhone with Magpul case
2. Wallet
3. iPod 160GB
4. Ray-Ban Aviator Glasses
5. Leatherman MUT
6. Keys with 2GB flash-drive
7. Headphones in a shredded beef jerky can
8. Paracord bracelet
9. EXTREME BEAM ALPHA-TAC SAR 7 Flashlight
10. S&W SWAT First Millennium Run Knife
Battery Life
I have had to change the battery once since I got this light. I did not run the battery empty. I accidentally washed and dried the Alpha-TAC SAR 7 Flashlight in my washer and drier. While you shouldn't do this, I can tell you from experience that the only problem was, the battery died. I can not say for a fact that is what killed the battery, as I am not sure. I would guess heat from the drier or maybe the light turned on in the washer or drier and just ran the battery down. I am pretty sure it was not because water got in the flashlight, as there is no corrosion inside.
Overall thoughts
I love this light. It is small and light weight so I don't notice it in my pocket. The batteries are CR123 which are used in most of my EO techs so I know I always have a backup when I need one. The 130 Lumens are plenty for me to see clearly at night even at distance of 100ft+.  I think this is a great EDC flashlight.