I had planned on posting this earlier but there was a new development in the story so I figured I would wait until today to talk about.
As stated in the last posting my gun was firing Single Action. (meaning you have to bring the slide back into the fire position) I had figured out it was the slide release spring on my Glock and had figure I needed to have it brought into a gunsmith and get it fixed. (Something just doesn't feel right when you know you sidearm isn't functioning like it should much less cycling properly)
so as I said yesterday I would post a photo of the damage and if you really don't look at it very closely you might not see the pregnant spot on it but here it is.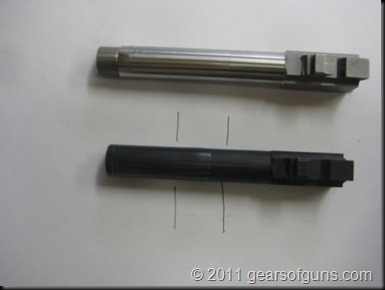 I am not a fan of the new Wolf simply because it is not a Glock barrel (I will talk about why in a later post)
So being that I couldn't take the gun not working anymore I had to get it fixed today.
I had some problems with a local gun shop in this area who gave me the run around with 2 .22LR Rifles I had. so I knew I wasn't going to go there and when the Glock was seized open I had taken it to another local shop but when I had a friend who needed some work down on a gun they told me they were backlogged for 2 months and I just don't have that much time to have a gun out of order plus they were telling me $45 to clean a Glock 21 so I called a few shops in the area and one company told me $10 to bring it in and he will clean it right in front of me and so I told him the problem I was having and told me he figured it was the same Spring I thought it was and would cost me real cheap to fix and he would do it while I wait. so I took the gun in he put the new spring in  and I was out of there. Friendly nice guy answered all my questions.
I will post his info on my page under sponsors.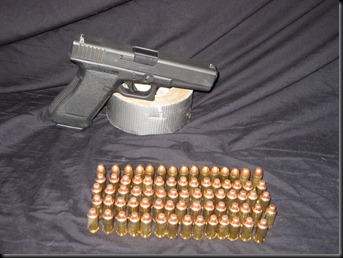 LONG LIVE THE GLOCK!