To read the first half of this review CLICK HERE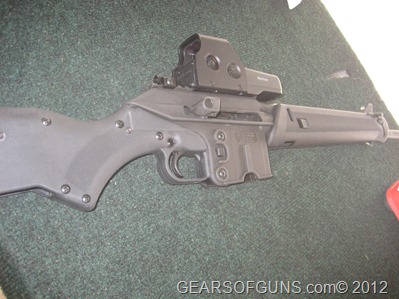 Like I said in the first half I really enjoyed this rifle so I will just jump right into the review
POLYMER FRAME: The rifle is made up of mostly polymer which makes the gun very light weight at only 4.7 pounds. Whereas an AR-15 is about 7 pounds.
SAFETY: The safety on this rifle is simple. it is just a push side to side button with a red ring on the fire side. I like to live with the K.I.S.S. mind set which is Keep It Simple Stupid.
PISTON: Similar to that of the AK family this rifle uses a piston system. This seems to it the bolt and chamber cleaner. as you read about in our 1700+ round testing.
ACTION:  this rifle is a piston driven system which seems to make this rifle cycle beautifully.
FELT RECOIL: (While this rifle is threaded for a muzzle device Kel Tec does not thread one on to this rifle.) The recoil was surprising to me when doing a side by side comparison to my AR-15 with a flash hider as the SU-16 had lower felt recoil.
MAGAZINES:   The rifle comes with (2) 10 round polymer mags in a carrying well in the folding stock. The stock also supports the use of a 20 round AR magazine in place of the 2 ten round mags. They designed this mag well to be that of the AR-15 mag wells to support the use of AR-15 mags (including beta mags). One thing we did notice was that the last 2 rounds in my 4 of my polymer sig mags did not seem to want to chamber.
FIELD STRIPPING:  To take this gun apart to do basic cleaning is as simple as using the bullet to push a pin out in the stock. (cleaning the bolt carrier group is a little bit more than just that but for the review we are only talking about taking the gun down to is basic parts)
ACCURACY: I will not lie and say I am the best shot in the world or that I am even a great shot (since breaking my back I cannot hold still). With all that being said I was still able to hold 5 shot quarter size groupings at 50 yards
SIGHTS: I liked the iron sights they sent out with the rifle but I can't really place my finger on why that is. I used both an EOtech and a 3-9×42 scope but I still preferred the use of the iron sights. Go figure!
RAILS: The rifle only has the short rail on top which meant I couldn't use my lasers and other TOYS much needed accessories. Kel Tec does sell a fore grip that replaces the bipod that has more rails on it.
FOLDING STOCK: I loved that stock folds under the rifle making the carry in a backpack or storage of the rifle take up less room. Some people are not a fan of this so Kel Tec also makes a replacement stock and pistol grip that is easy to install.
OVERALL THOUGHTS
I shot over a 1000 rounds through this rifle and I have to say I wish I didn't have to send it back because this was a comfortable and easy to shoot rifle.
This rifle has the best of a lot of worlds with its bipod, piston, folding stock, mag holder, polymer frame. all around just a GREAT gun!
With the prices of a basic "cheap" AR-15 hitting close to $1000. The SU-16CA rifle coming in MSRP as $770 (VERY VERY HIGH and in most cases can be found cheaper) this is a good buy for a .223/5.56 rifle.