Meade Instruments Wilderness™ Spotting Scope – 20-60x100mm Review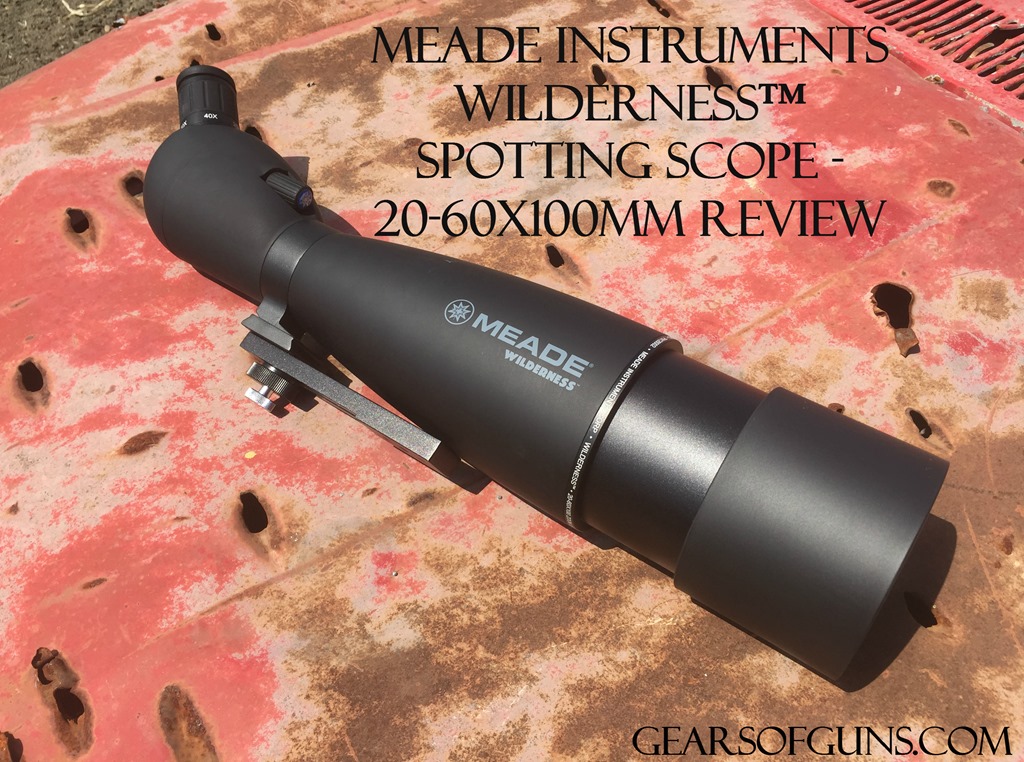 The Prologue
While visiting with one of my cousins on a recent layover in Dallas, we started talking about her sister who works for Meade Instruments in the marketing department. I went home and checked out Meade's site. I had found they had a few sporting optics. I wondered why I had never heard of Meade before. I explored the website further and I looked into their sports optics. I found their target audience to lean more in the general sporting optics needs and astronomy.
I called my cousin and she set me up with a Meade Instruments Wilderness 20-60x100mm spotting scope. I requested the largest scope they make because we are trying to see 6 to 8mm holes at 200 yards. My general rule of thumb is, the bigger the optic the better chance of making out what we just hit.
Specs
Meade high-quality, 20-60 power, zoom porro prism binoculars deliver years of use.
Large 100mm objective gathers plenty of light for bright detailed images.
All Wilderness spotters feature high index BaK-4 prisms and high-quality, precision ground lenses that are coated with multiple layers of anti-reflection coatings to provide optical performance that is equal to, or better than any spotting scope in its class.
Each Wilderness spotting scope features a sliding sunshade to further reduce glare.
A rugged rubber armor covering protects your Wilderness spotting scope from abrasions and damage from regular use.
All Wilderness Series spotting scopes are waterproof, fog-proof, and nitrogen purged to ensure many years of performance regardless of the environment.
All Wilderness spotting scopes come standard with the soft case and camera adapter (requires T-Mount, not included).
I asked if they manufactured any of the scope parts or glass in the United States and sadly the answer is no as they manufacture in Mexico and China.
Testing
I used this scope during all of our range trips as well as during the September 2015 blood moon eclipse. We were fortunate enough to be able to see that event clearly here in Texas.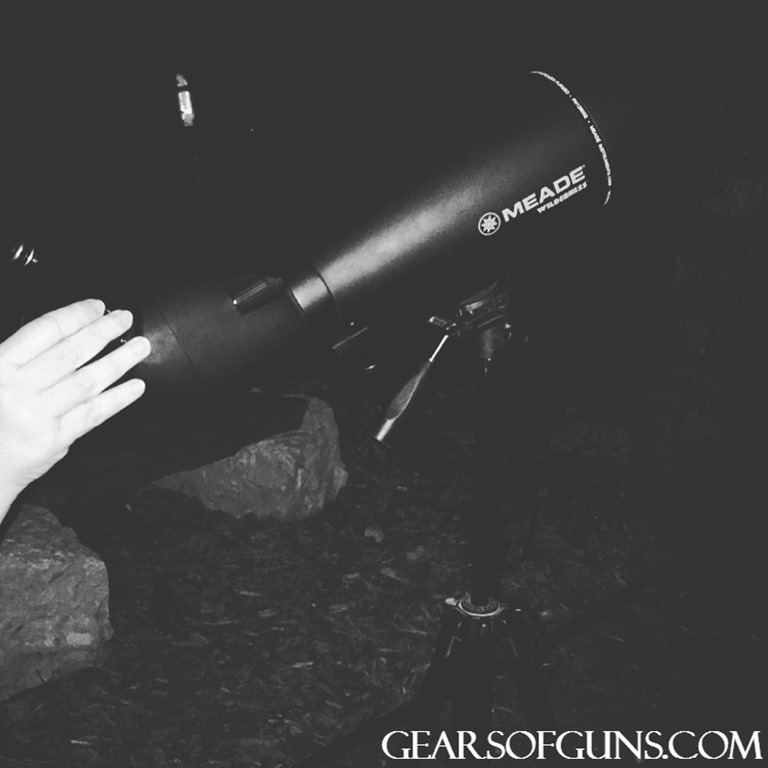 I own only one tripod. All of the others are owned by Clay, our videographer. My tripod is a super expensive one, a $9 deal, that I picked up on Amazon a few years back. I have only used cameras with this tripod prior to this and it had always been fine for that use.
This tripod however did not work well with the Meade Instruments spotting scope. The weight and balance of the Meade scope needs a better built tripod. With that said, the only time this was a big problem was when we used it for the lunar eclipse. Trying to keep the scope centered on the moon was challenging.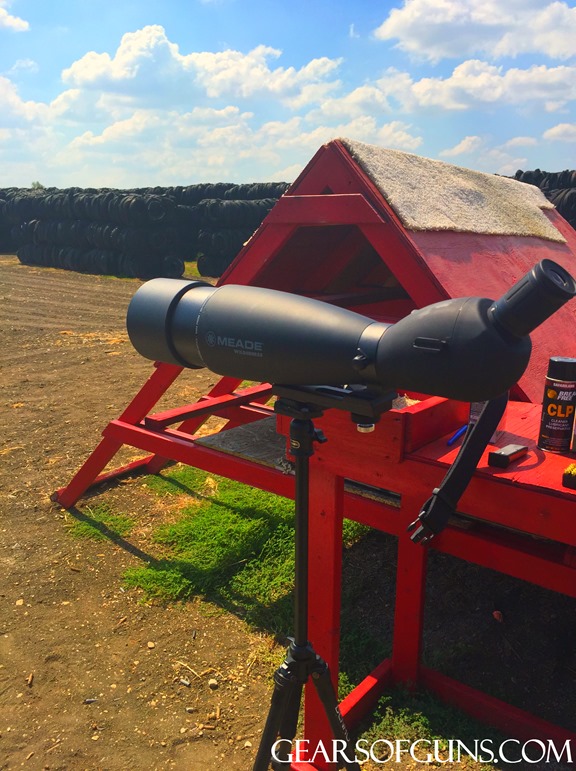 During all of our range trips, the scope was clear and crisp when defining each shot taken at 200yds. We only ran into trouble using it to define each hole in the paper at 300yds.
Final Thoughts
If you are planning on using this scope I would recommend a stronger tripod first and foremost. The scope performed well for us up to 200yards and that was our max. The MSRP is $380. I found the price of this scope to be about $260 online, which is a fair price in my opinion, for the quality of the scope. The scope comes with a carrying bag. As someone who had to carry out two trucks worth of gear for an average range day, I would definitely want to replace the bag with a hard case with foam. I like to keep my gear protected.