We posted this name that gun last Monday with the plan of writing about it on Friday but the plans fell through so we are posting it this week.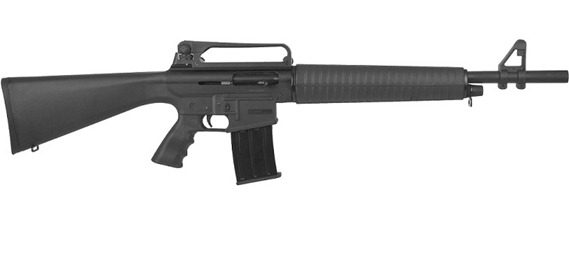 SPECS:
Model: MKA 1919
Caliber: 12 ga.
Weight: (Empty) 6.5 lbs.
Operation: Gas Operated, Semi-Automatic
Overall Length: 40.5 inches
Height: 7.5 inches
Barrel Length: 19.7 inches
Sight Radius: 23.6 inches
Other info:
• Patterned after the AR-15
• Magazine fed semi-automatic shotgun
• Detachable front sight and carry handle
• Comes with 2 metal 5rd detachable magazines — (1) 2-3/4 inch and (1) 3 inch
• Bolt holds open after last round
• Chrome-lined internally choked barrel
• Includes 3 screw-in chokes (full/modified/cylinder bore)
• Receiver has an integral picatinny rail for mounting accessories
• Self-adjusting gas system
As some of you may already know this is not the first shotgun patterned off of a rifle (Saiga 12 is patterned off of the AK-47 style)
The MKA 1919 design is based off of the AR-15 platform and has some similar features to the AR like the mag release and safety.
The shotguns "lower receiver" is one solid piece of impact-resistant polymer making the weapon light weight. The downside to the solid lower means the shooter cannot change the handgrip and shoulder stock.
The charging handle is similar to other semi-auto shotguns and the AK-47 in that it has it protruding off the side of the bolt group on the right side of the receiver.