I have been provided the materials needed for this review. However, my opinions are entirely my own and I have not been paid to publish positive comments.
Skeet shooting is one of my favorite past times, give me a thrower, clays, ammo and a shotgun and I will be busy for hours (or until the clays run out). I had the rare chance to meet up with Jessica of the Freedom Group (who owns Remington) at SHOT 2014 so we could review firearms from the Freedom Group. Naturally I was drawn straight to the shotguns because of my love of them.

I was fortunate to grow up in a Boy Scout Troop who owned 2 Remington 870s and a number of other shotguns. During shooting campouts I would run (with the guidance of an NRA certified adult) the shotgun and .22lr rifle groups. Over the years we had various leaders of the troop bring in shotguns on the campouts that included semi auto, pump, bolt action and break action. I had a chance to really get a feel for many different kinds of shotguns and brands.
Remington 11-87 Sportsman Field
SPECS:
Weight: 8.25 lbs. (3.7 kg) with 28inch barrel
Length: 48"
Barrel length: 28"
Cartridge: 12 gauge
Action: Semi-automatic
Feed system: 4+1 rounds, internal tube magazine
KEY FEATURES:
· Wood and Satin Blued Configuration
· Solid Walnut stock and fore-end with Satin finish and Fleur-di-Lis checkering
· 12 gauge with 28″ RC barrel and Mod Choke
· Dual bead sights
· Nickel plated bolt and gold trigger
Shooting
I got this shotgun back in March 2014, we have taken it to our range every time and shot about 500+ shells through it. I have only cleaned it about 3 times. One of the shooters we work with was not a proficient skeet shooter. He just doesn't have many hours logged on the shotgun range. After about 10 clays thrown, with the Remington 11-87, he started asking for 2 clays to be thrown at a time. He was hitting them about 75% of the time. He commented later that it gave him fast follow up time making it easier to hit the clay before it was too far out. He felt he did much better with this shotgun because of how smooth the recoil was and the fact it was semi auto.
Between myself and a friend of the GEARs crew we shot 95 shells for 90 clays.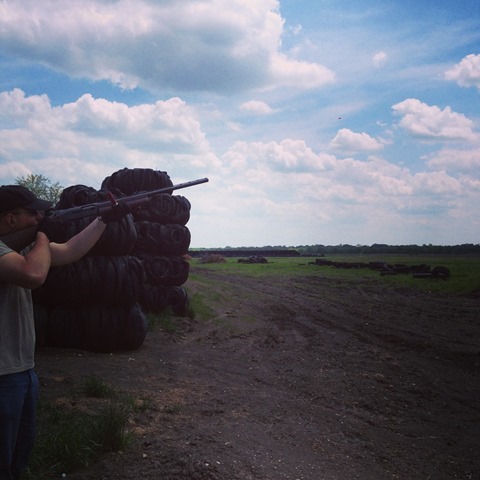 My Final Thoughts
I loved this shotgun. I really like everything, from the looks of the shotgun to the recoil to the smooth action. This shotgun just felt great in my arms.
The MSRP is $845 which is a middle of the road priced semi-auto 12 gauge. If you are looking for a shotgun that is going to last you for generations to come with easy maintenance, this is a shotgun you will want to put on your list.