When I was younger I fancied myself a "Glock" man. In all of the debates with my friends I held true to my Glock fandom and that there wasn't a 1911 on the face of this earth that could sway me. I have grown up a lot since then and I have experienced one or maybe two more guns since I was a youth. As I have matured and become a reviewer, I know that my tastes and knowledge has grown with me. I have been on the hunt for a 1911 that I could put the Atticus James stamp of approval on for about 2 years now, and I can say I have finally found it.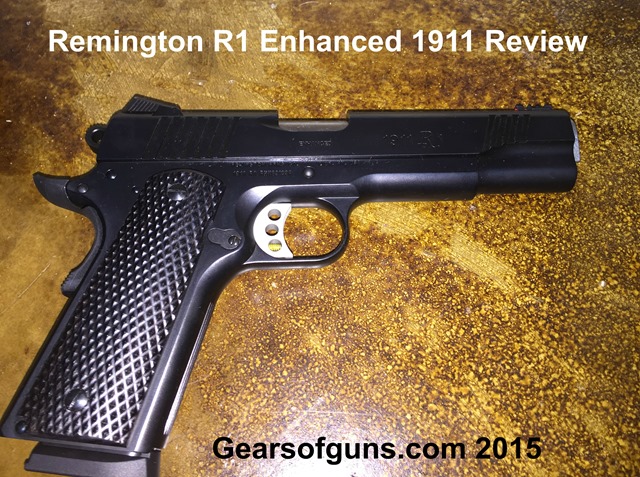 Side Story
Before I get to reviewing this gun I wanted to share a story with you. As some of you know, I name my guns like they are my children and each firearm has a name that relates to a part of the gun and how it came to be mine.
On Valentine's Day 2015, I picked up the Remington R1 1911 and the OOW 1919 (it was my month of ordering firearms designed in the 1900s). I opened the Remington pistols' hard case and saw the gun for the first time. I instantly knew her name. Cupids Bow (Cupid for short). Because if Cupid was real it wouldn't carry bow and arrows, it would carry this .45ACP, so when you get hit with love it feels like a Mac truck just hit you. This is how I felt when I first held the Remington R1 Enhanced and again when I first shot this pistol. Love hitting me like a Mac truck.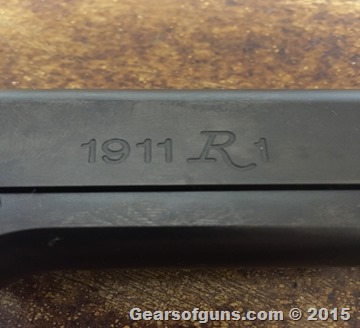 Specs
ACTION: Short recoil operation
CALIBER: .45 ACP
MAGAZINE CAPACITY: 8+1 (comes with two mags)
BARREL: 5 in.
OVERALL LENGTH: 8.5 in.
OVERALL HEIGHT: 5.5 in.
GRIPS: Enhanced Wood Laminate
TRIGGER PULL: 3.5-5 lb.
WEIGHT: 39.5 oz.
Price: $940
First Impressions
I am not a good shot with pistols at anything farther than maybe 10 feet. I am working at getting my accuracy better but it has taken time. When we first took the Remington R1 Enhanced out to the range we were working in our back bay that goes out to 182 yards. We had been shooting our OOW 1919 out to the 50 yard line. We had to take a break from the 1919 and moved over to pistols for a bit. After shooting about 250 rounds down at the 7 yard with the Remington R1 Enhanced I decided to ring steel at 10y and 25 yards. I felt super confident after ringing in the silhouette at 25 yards. I wanted to try my hand at 50. After about 3 shots of walking up I rang the steel. For some of you this is nothing and I understand that, but for me this was AWESOME!
Shooting
When I moved over to the knockdown plate rack I was averaging about 90% hit rate at 10 yards. I let my sister try this pistol out and she noted it was heavy when she first picked it up but after shooting the gun and seeing how the weight helped her follow up shots I think the heaviness didn't bother her after that. The crew got some time behind the gun and I heard things like "they can take this from my cold dead hands" "dibs" "do you think Atticus would notice it missing if I sneak it under my shirt and take it home".
Grips
I don't like the prickliness of the grips. I understand the reason being that it adds more slip resistance, but I am not a fan. I found that the screws were loose on the grips when I got the gun. After tightening them they haven't backed out once.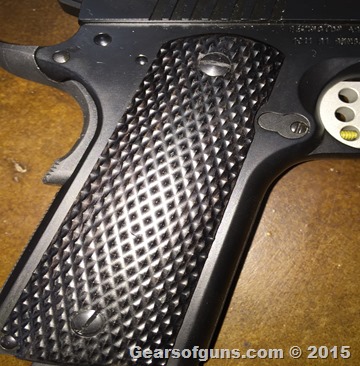 500 Round Cleaning
After the first day of shooting, the muzzle was very caked with carbon and powder. I always use M Pro 7 cleaner on my guns and after taking the Remington R1 down and spraying everything with cleaner all the carbon just wipes off and returned the gun to a shiny new-ish gun.
2000 Round Cleaning
When shooting the next 1500 round (maybe 200 rounds in) is when we had our first and only failure to fire. I was being bad and using an old box of Tula and I believe the round was just bad. After cleaning the gun it is still shiny and looks new. The fiber optic front sight needed to be cleaned with a q-tip but still is red and very visible .
Ammo Used
I have been using Blazer 230 Gr FMJ .45 Auto ammo in my .45s for years now and I have never really had any problems with it. I used 1600 round of Blazer, 50 rounds of Tula Ammo 45 ACP 230 Gr. FMJ Steel Case, 50 rounds of HPR .45 AUTO 230 JHP (the round I used to hit steel at 50 yards) and the last 300 rounds was Monarch brass .45 ACP FMJ.
Take Down
Remington ships a plastic barrel bushing wrench with the pistol making the take down easier. The gun takes down just like any other 1911.
Trigger
I have a Geissele Super Semi-Automatic Enhanced (SSA-E) Trigger in my AR-15. I have been complimented on this trigger more times than I can remember. The Remington R1 Enhanced Trigger is very similar. The trigger had a little more play left and right then I like but the pull and the reset are crisp and clean. It is like drinking a nice cold glass of water on a hot summer day. This trigger quenches that thirst like very few can.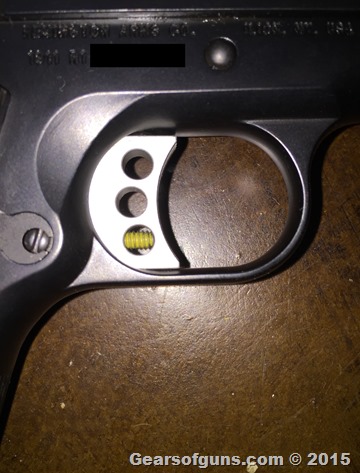 The Sights
The adjustable rear sight and fiber-optic front sight (red) make for an easy to see and quick to draw sight picture. Out of the box the pistol was dead on at 25 yards. When holstering this pistol in my drop leg holster I never had any problems with it snagging on the front sight. I never carried this pistol concealed because I do not have a holster to fit this gun.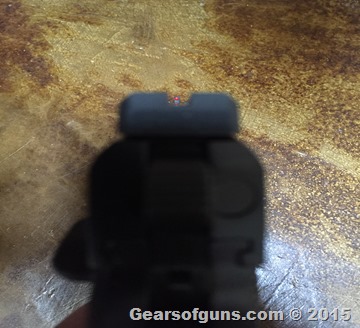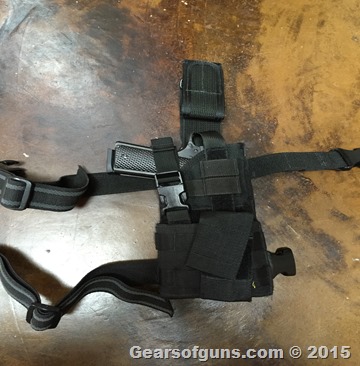 The Hard Case
In the case, it has a cut out that I could not figure out for the life of me what went there.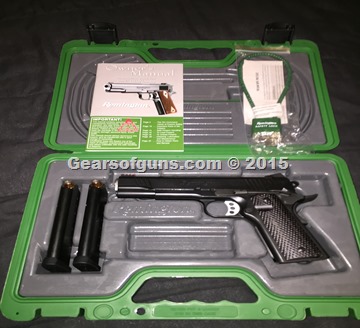 As it turns out Remington sells a 1911 Multi-tool that fits in that spot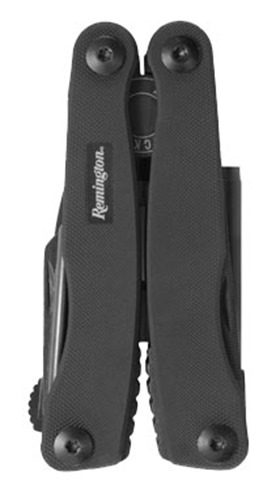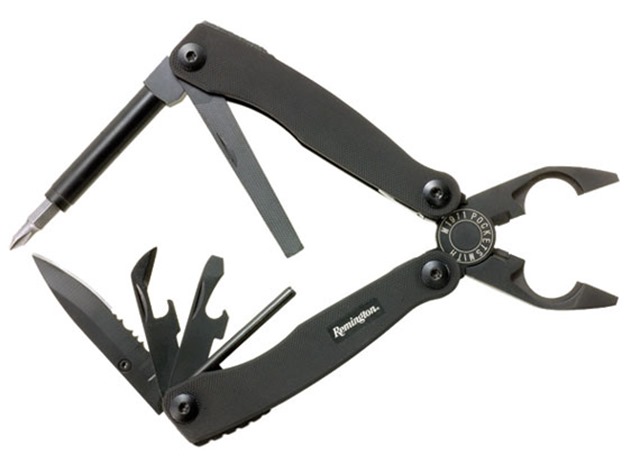 As to why anyone would store this in the hard case is beyond me but I guess if you are wanting to give this as a gift with the tool included it would make for a nice one piece gift.
Overall Thoughts
The Remington R1 Enhanced is a custom factory made gun. Fit and finish on this pistol makes that apparent.
I loved this gun. I have never shot Remington's other 1911s but my gunsmith said he has never been happy with them and that he only liked what Remington had done with the R1 Enhanced.
2000 Rounds and only one issue is good odds. Especially if that was only due to bad ammo.
At $940 MSRP it is hard to beat the price for a custom gun. While this gun would make for a nice piece to display it is also a firearm you could can shoot day in and day out.