While I have been blogging for almost three years now this is the first time I have been able to head out to SHOT Show 2013. As most of you may know we had Gun Bunny, Panzerfaust, Old Man Lefty and myself out there so we were able to break the crew up in to two teams to cover more of the show. The show boasts 12.5 miles of aisles which equated to what we would guess would be about 30 miles of walking over the 4 day span (based on how the old man and I walked the show). The GEARS crew was unable to go out to the media day at the range on Monday so we were not able to get to test any of the firearms.  After talking with a few friends at the show who were able to head out there we got a good general idea of which guns we wanted to see and try to review later on this year.
Since this was my first time, I had made plans to focus on a making contacts with companies we would like to do business with in the future while still trying to take pictures of everything.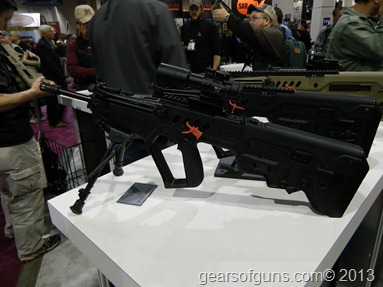 IWI Travor
I have been asked by family and friends who are not big in the gun scene what SHOT show is. Most of them did not understand the difference between a "gun show" and a private trade show.  I figured I would take this chance to give the best description I can for the people who might not really know.
SHOT stands for Shooting, Hunting, Outdoor Trade Show. This is a chance for everyone in the industry to get together and show off the latest and greatest products they have to offer each year. This is a private event held solely for people in the industry from manufactures to distributors to press to purchasers from stores.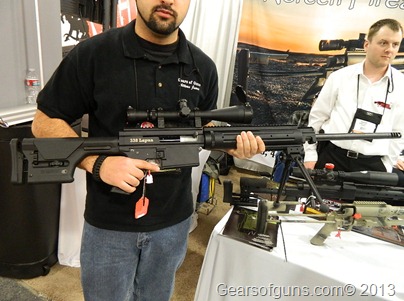 Noreen Bad News .338 Lapua
Growing up,  "adults" would ask my friends and I what class we liked in school I always remember we would answer "lunch" because it was a chance to hang out with your friends and I found myself in a similar thought because I really enjoyed going to the food court at Shot Show and waiting in line with all the like minded people.  I would sit down with lunch and be able to strike up a conversation with people I have never met before and not have to worry about their take on firearms.  I met some great people and had some wonderful conversations at lunch.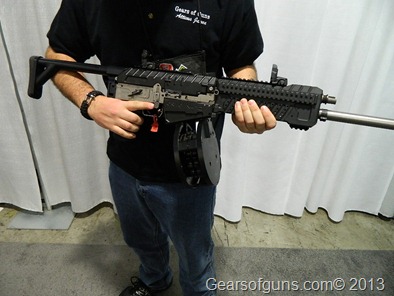 Alliance Armament Origin 12 Shotgun
While everyone has a right to their own opinion and I will talk to most anyone and it is a nice feeling to sit down with a group of men and women from all over and be able to share a common thought and goal in life.
The show took place at the Sands expo center in Las Vegas which is pretty well in the center of the strip so trying to walk every morning for everyone just simply is not an option, so they have SHOT show buses that would pick you up from different hotels and drop you off at the show in the morning and take you back at night.
The bus held about 40 to 60 people and sitting on the bus you could get a conversation going in the back of the bus that seemed to over take the whole bus and everyone would be having this conversation as if we were all from the same company.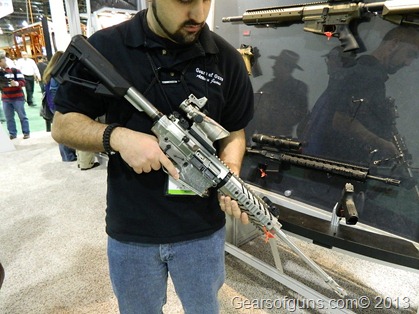 $100,000 Nemo Arms AR-10 at Trijicon
Firearms are not really just an industry… it is a way of life for so many of us.
SHOT show isn't just an industry show it is a chance to meet up with the best friends you have never known before and for the lucky, a chance to see a few old ones.
This show is so massive that you can almost spend the whole week and never see the same person you met on day one.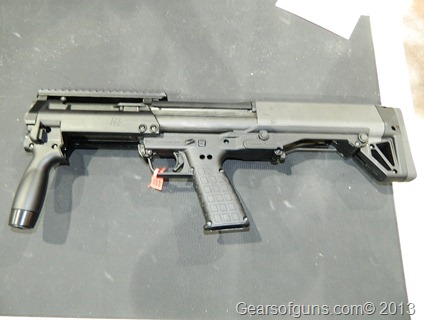 Kel-Tec KSG