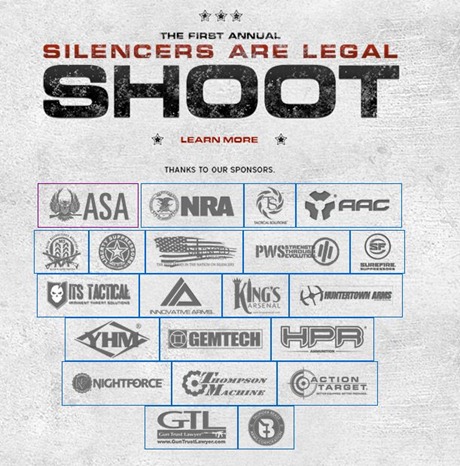 The GEARS of guns crew will be out at this event.
This event was designed to help the public get a better handle on the fact that suppressors are legal (with the proper paperwork) and FUN to shoot.
The GEARS Crew will have a group of women joining us to help teach them about guns and shooting so be sure to bring out everyone and get a chance to try out some of the coolest SUPPRESSED firearms on the market today.
BRING YOUR GUNS AND SILENCERS, SHOW THEM OFF TO THE WORLD!

Come support the silencer industry and invite friends to learn about silencers including: uses, benefits, and how to purchase silencers. This live fire event will surely be the year's most exciting gun show. Conveniently located in the heart of Dallas, Texas at Elm Fork Shooting range, one of the nicest shooting facilities in the country.  Vendor tents are on the firing line for easy access to test the most current products on the market. Bring your guns and enjoy silenced fun!
For vendor/exhibitor information:
Please contact Kenny at Silencerco/SWR | 801.417.5384 | kenny@silencerco.com
All raffle proceeds and ticket sale profits go to the American Silencer Association.
WHEN:Saturday, April 28, 2012, 9:00 am – 6:00 pmWHERE10751 Luna Road  |  Dallas, TX 75220
972.556.0164
www.elmfork.com
WHAT:Testing products from many vendors, including silencer manufacturers
and firearms manufacturers
Raffles for a chance to win awesome products
Vendor booths selling state-of-the-art firearms and accessories
Ammo vendors on site to make sure your guns are fed all day long
Food and drinks available all day to ensure you have the energy to shoot
Must be 18 to attend the event.
Anyone under 18 must be accompanied by a guardian.
If you have children, the minimum age is 5 and the minimum age for shooting is 12.
All live fire must be suppressed. No unsuppressed shooting allowed.
CHECK OUT THE EVENT VENDORS
Advantage Tactical
Atwell Tactical
ITS Tactical
John Doe Investigation
John's Guns
Lone Star Armory
Lone Star Medics
NFA Ventures
North Texas Armament
SAWS Inc.
Shark Suppressor
Silencer Shop
BRING YOUR GUNS AND SILENCERS,
SHOW THEM OFF TO THE WORLD!

For the event website click here