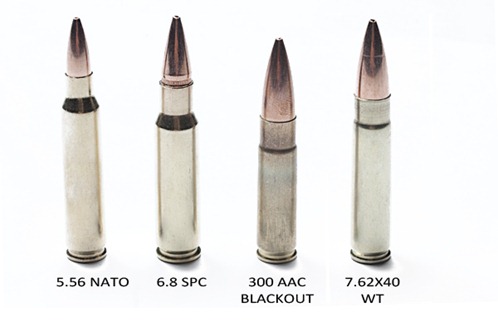 We talked about the .300 AAC BLK (7.62×35) last week and for a comparison we are looking at the 7.62x40WT
The New 7.62x40WT uses the 5.56x45NATO cartridge case which is shorten and necked up to the .30 (7.62) caliber projectile. To convert the standard 5.56NATO AR-15 platform rifle, a barrel change is required and a special Wilson-modified version of Lancer's L5 AWM polymer magazine (The L5 AWM is a 5.56NATO magazine).
The 7.62×40 WT will function with standard unmodified Lancer L5 magazines if loaded to 17 (in a 20 round) or 24 rounds (in a 30 round), the Wilson Combat modified Lancer L5 AWM magazines with loaded 18/19 in a 20 round or 28/29 in the 30 round capacity magazines. The modified magazines were redesigned so that it may function more reliably.
The 300 BLK has been optimized for subsonic and suppressor use, but can work with supersonic loads. The 7.62x40WT is designed for supersonic.
We contacted Wilson Combat about if the 7.62x40WT has been SMAAI approved at this time but as of July 2011 They have not but are working towards that.